Welcome to the
Destiny Finds Her Way
Blog Tour & Giveaway!
To celebrate the release of Destiny Finds Her Way by Newbery Honor winner Margarita Engle, blogs across the web are hosting guest posts from Margarita as well as the book's photographer, Sam Trull, who is also the co-founder and Executive Director of the Sloth Institute — a sloth rescue organization based in Costa Rica. Join us for a journey behind the scenes of how these two amazingly talented women teamed up to bring this inspiring, true story to readers everywhere and learn more about sloths and the work being done to protect them.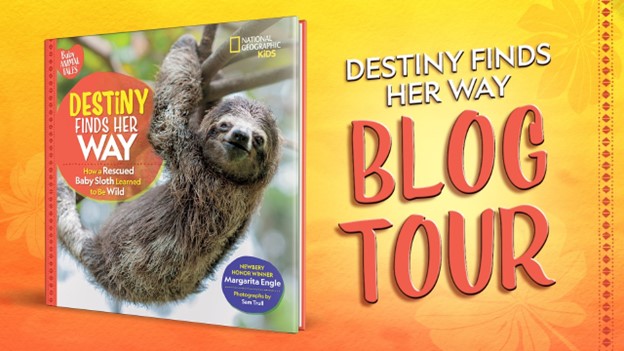 A Note from the Author, Margarita Engle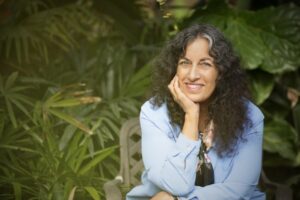 The text for this book was inspired by wildlife conservationist Sam Trull's photographs of Destiny, and by stories she shared while I was visiting the Sloth Institute in February 2020. By then, Destiny had been released in the rainforest and was living freely. But I had the chance to meet other orphans, as well as adult sloths rescued after they were injured by electrical lines or other hazards. It was not my first trip to Costa Rica, but it was my first close encounter with a scientist like Sam, so dedicated that she took baby sloths home at night so she could wake up and feed them every few hours.
Li'l Sebastian, one of the other sloth orphans, has also been released now, but he was three months old at the time of my visit. He lived in a basket in the rescue center, cuddling his pink blanket, drinking goat's milk, and munching on floppy Cecropia leaves. He was a student in Sam's "sloth preschool." She took him outdoors and gave him a chance to dig a hole with his stubby tail, poop, and then climb a small tree. He kept looking back at her, checking to make sure his substitute mommy was watching. I was surprised by his intelligence, sweet personality, and resilience. Sam told me something I will never forget: She said sloths at the rescue center are friendly to each other, and loving to humans as if they understand that they are being helped.
The assistant director of the Sloth Institute, Pedro Felipe Montero Castro, led me on a walking tour of the rainforest, pointing out sloths and other animals hidden in the canopy above us. Pedro also said something I will never forget: "Todo el mundo sabe rescatar, pero nadie sabe liberar—Everyone knows how to rescue, but no one knows how to release." He and Sam explained that they receive frequent calls from people who have found orphaned or injured sloths, rescued them, and don't know what to do next. A scientific approach like the one at the Sloth Institute is needed. Rescued animals need to be healthy and educated—prepared for independence—by the time they're released.
I was surprised to learn that diurnal three-fingered sloths like Destiny and Li'l Sebastian have a life span of 20 years, while the nocturnal two-fingered species can live more than 40 years. That's a long time to keep a sloth in captivity, so the goal of release is essential, not only to maintain the wild population but for each individual sloth's happiness. Even though sloths can't really smile, they are happy up in the trees, resting, eating, scratching, climbing, and looking around at their surroundings. They're not lazy, just careful. Unlike monkeys that leap, sloths never let go of one branch until they're already clinging to the next branch. I left the Sloth Institute knowing that I had learned a lot about life, as well as quite a bit about sloths. I learned from the slow perseverance of sloths, and from the dedication of scientists who prepare them to enjoy lifelong freedom.
—Margarita Engle
A Note from the Photographer and
Co-Founder of the Sloth Institute, Sam Trull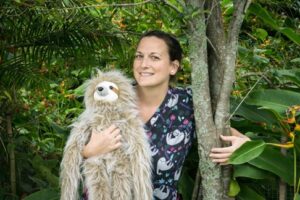 Almost every day for the past decade I have taken at least one photo of a sloth—usually a lot more than one. As the co-founder and executive director of the Sloth Institute in Costa Rica, I am very often surrounded by sloths and find myself unable to resist the temptation to press that shutter button. Sloths sleeping, sloths climbing, sloths going to the toilet; no matter what they do I am there, camera (or phone) in hand, and ready to document it. In addition to photographing sloths, I am also one of the main people providing their daily care. Feedings and medical treatments are frequent occurrences for our sloth patients that are being rehabilitated for a life back in the wild.
Thanks to our work at the Sloth Institute, we have rescued almost 400 sloths in Costa Rica. Sadly, that number only increases over time as sloths struggle to deal with human encroachment. They are often injured by electrocution when they touch uninsulated electric wires that run through their forest homes or get attacked by dogs (who have no home themselves) when they descend to the ground to cross canopy gaps. Many of our patients come to us as orphans when their moms are killed in one of these horrible accidents or when forest loss has displaced them to make room for new buildings or to improve the view of the ocean from every hotel floor.
Some of our rescues are with us for only a day, some a few months, and others (the orphans) can stay in rehabilitation for up to two years! Destiny was one such orphan. Rescued at only a couple of months old, she was found after she had fallen from her mother, sick and with only one working eye. We arrived on the scene with our veterinarian, and while we always try to reunite mom and baby sloths when possible, it was clear that if we didn't rescue little Destiny, she was going to die. Her mother, who was in a tree above us, was ignoring Destiny's cries for help, which is unusual for mother sloths. Usually, they find a way to the ground or wherever the helpless baby may be and retrieve their precious cargo. However, at close inspection we could see that mama sloth already had another baby on her chest … Destiny was a twin! There isn't a lot of research about sloth twins because usually sloth moms have only one baby at a time. However, raising a baby uses a lot of energy. Because sloths need to conserve energy to survive, raising two babies at one time would be quite difficult—especially in a fragmented forest with changing or inadequate food resources.
Luckily for Destiny, we were nearby and able to step in and not only save her life, with the help of our friends from Toucan Rescue Ranch but also eventually return her to the wild. Despite having only one eye, she never stopped fighting—and we never stopped fighting for her. Every day, sloths struggle with how to coexist in an ever-changing, fast-paced environment. Saving sloths like Destiny is an integral part of how we can right the wrongs that wildlife face and conserve wild populations of sloths.
—Sam Trull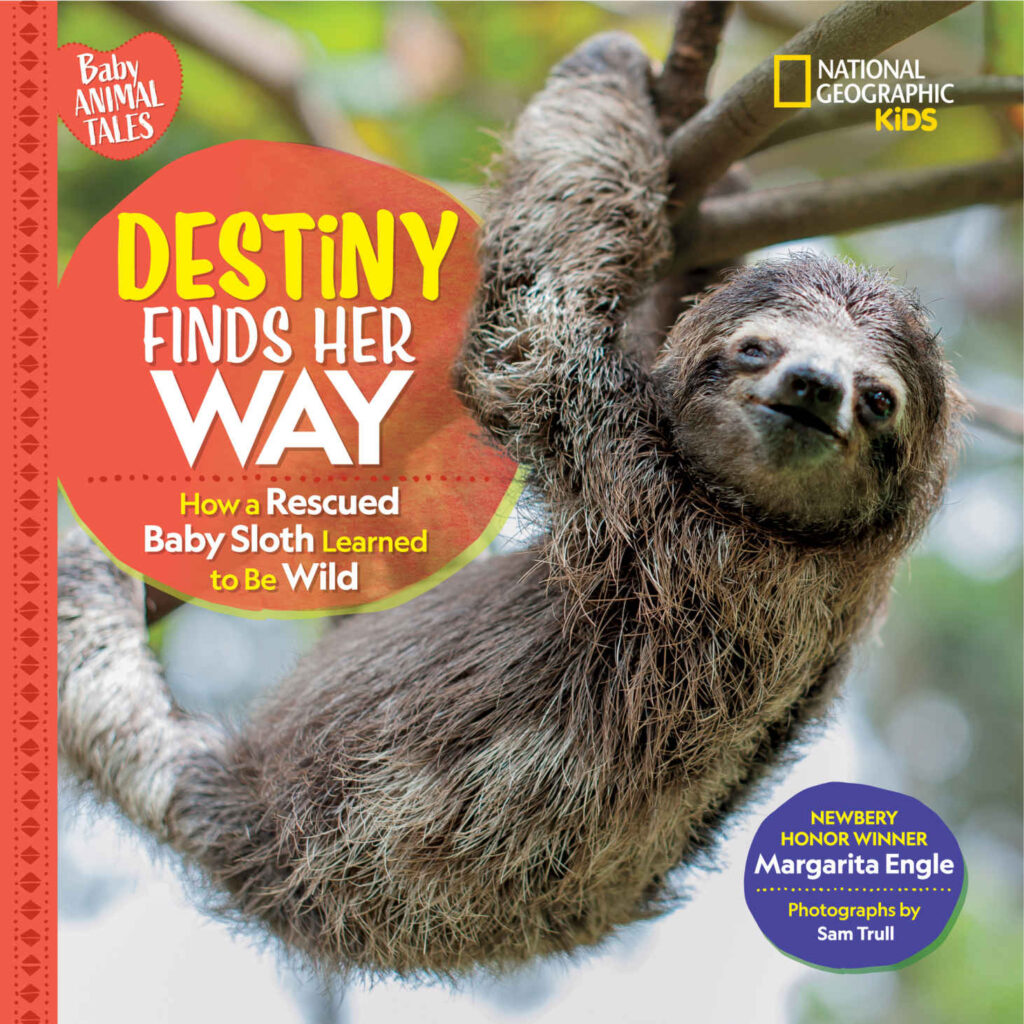 Buy | Buy on Bookshop.org | Add to GoodReads
About Destiny Finds Her Way
(ages 4-8, Hardcover Picture Book, National Geographic Kids Books)
Newbery Honor winner Margarita Engle and photographer and Sloth Institute Executive Director Sam Trull team up to bring the inspiring and true story to life of how Destiny, a motherless baby sloth, sightless in one eye and rescued by Sam in the Costa Rican rain forest, defies the odds, overcomes her obstacles of limited sight and learns the skills she will need to return to her wild, forest home.
Without her mother to protect her or teach her, Destiny is found and taken to a rescue center in Costa Rica. The little sloth soon befriends other orphaned sloths. Her poor eyesight, however, makes it hard for her to keep her balance. Eventually, Destiny begins to use all of her senses to explore the world around her. But can she learn to climb? Can she master the other skills she needs to survive on her own? And will Destiny be brave enough to return to her wild, forest home?
In addition to learning about Destiny and her journey, readers are immersed in the world of sloths and sloth rescue in this uplifting story about overcoming obstacles and believing in yourself.
About the Author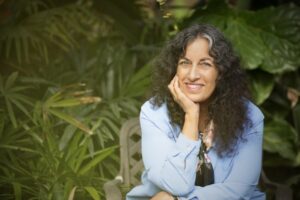 Margarita Engle is the Cuban-American author of many verse novels, memoirs, and picture books, including The Surrender Tree, Enchanted Air, Drum Dream Girl, and Dancing Hands. Awards include a Newbery Honor, Pura Belpré, Golden Kite, Walter, Jane Addams, PEN U.S.A., and NSK Neustadt, among others. Margarita served as the national 2017-2019 Young People's Poet Laureate. She is a three-time U.S. nominee for the Astrid Lindgren Book Award. Her most recent books are Rima's Rebellion, Singing With Elephants, and Destiny Finds Her Way. Her next young adult verse novel is Wings in the Wild, and her next picture book is Water Day.
Margarita was born in Los Angeles but developed a deep attachment to her mother's homeland during childhood summers with relatives on the island. She studied agronomy and botany along with creative writing and now lives in central California with her husband.
Website | Instagram | Facebook | Twitter
About the Photographer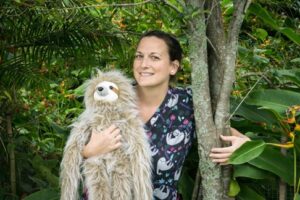 Sam Trull has been a photographer and a wildlife biologist for decades. After many expeditions to Madagascar, West Africa, and Central America, in January 2013, she settled in Costa Rica, where she co-founded and is the executive director of the Sloth Institute. Her first photo book, Slothlove, was published in April 2016.
About the Sloth Institute: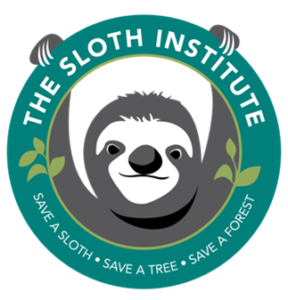 The Sloth Institute (TSI) is a nonprofit organization located in Costa Rica with the mission to enhance and expand the welfare and conservation of sloths through rescue, rehabilitation, release, research, and education. In addition, TSI works on targeted conservation projects to improve the safety and quality of sloth habitats and teaches other rescue centers how to better care for and release their sloths. TSI believes that all sloths were born to be wild and deserve that second chance at freedom.

Website | Instagram | Facebook | Twitter
GIVEAWAY
One (1) winner will receive a copy of Destiny Finds Her Way
US/Can only
Ends 3/18 at 11:59 pm ET
Enter via the Rafflecopter below
Visit the other stops on the tour for more chances to win!
Blog Tour Schedule:
March 6th — Pragmatic Mom
March 7th — Heise Reads and Recommends
March 8th – Mom Read It
March 9th — Unleashing Readers
March 10th — Imagination Soup
p.s. Related posts:
31+ STEM Books to Inspire Girls
Jane Goodall: Women's History Month
10 Picture Books About Women Scientists Who Became Activists
10 Picture Books on People Protecting the Planet
To examine any book more closely at Indiebound or Amazon, please click on image of book.
As an Amazon and IndieBound Associate, I earn from qualifying purchases.
My books:
 Amazon / Barefoot Books / Signed or Inscribed by Me
Amazon / Scholastic / Signed or Inscribed by Me
BEST #OWNVOICES CHILDREN'S BOOKS: My Favorite Diversity Books for Kids Ages 1-12 is a book that I created to highlight books written by authors who share the same marginalized identity as the characters in their books.