Even with Western support, Ukraine's army and its legions of volunteer fighters are severely outgunned by Russian forces. The National Bank of Ukraine has created an account where people from around the world can donate to the country's military.
I can't stop stress knitting from reading the news updates on Ukraine. I find it easy to feel stressed and helpless so I rounded up some ideas of ways to donate to help Ukraine. The first comes from my neighbor, who went to college with Tymofiy Mylovanov, the former Minister of Economic Development in Ukraine. The second is a list of nonprofits from The Washington Post.
Donate to nonprofit Kyiv School of Economics
This is from my neighbor:
"I know Tymofiy personally, we went together to Kyiv School of Economics (KSE) to get our MA in Economics. He is the former minister of economics, and currently the head of KSE, as well as a professor of economics in UPenn (formerly) and the University of Pittsburg (currently).
Tymofiy Mylovanov is a Ukrainian economist and former Minister of Economic Development, Trade and Agriculture of Ukraine in the government of Oleksiy Honcharuk.
You have been asking how you can act. Here it is. "Kyiv School of Economics" (501.3(с) nonprofit registered in Washington DC) is collecting funds for humanitarian aid to Ukraine! To address the current challenges in Ukraine and in accordance with the goals stated in its Charter, Kyiv School of Economics raises funds to help vulnerable groups of people in Ukraine and those who cannot ensure their safety independently. We ask for your financial support for the humanitarian project of Ukrainian NGOs and local administrations, specifically: Funding for the volunteer groups, which provides services and support for vulnerable groups in times of crisis Assistance to humanitarian aid centers Organizational and institutional support for both leading and emerging during the crisis civic initiatives to establish and preserve Ukraine's intellectual sovereignty KSE is fully operational in Ukraine and will use its institutional capacity to ensure the most effective and most targeted use of funds for humanitarian purposes.
Please donate to the KSE DC to support the development of the humanitarian movement and best international practices. Bank details for payment in USD Kyiv School of Economics / Economics Education and Research Consortium, Inc. 1350 Connecticut Ave NW, Suite 1000 Washington, DC 20036 Citibank, F.S.B. 901 P.O. Box 19748 Account number: 66804191, Citibank ABA/Routing Number: 254070116 Citibank
Address: 1775 Pennsylvania Ave NW, Washington DC 20006 Website for donation in USD https://kse.ua/donation/ (USD) Kind regards, President Tymofiy.
Thank you,
Sergiy
---
Book an AirBNB in the Ukraine
A new idea just bubbled up on social media from IG: @quentin.quarantino  and Twitter @quentquarantino
Yesterday I shared an idea to support Ukraine by booking rooms for rent on AirBNB. 24 hours later, 100's of people are booking AirBnBs in Ukraine as a way to send immediate monetary assistance to people in hard-hit areas. The messages in response from the hosts are so moving
Also, in The Globe and Mail:
When Olivera White was searching for an Airbnb rental in Ukraine, she had no intention of staying at any of the three units she booked near Kyiv. Instead, she's part of a global movement looking to directly support Ukrainians under siege by Russia.
And it seems to be working!
Airbnb says 61,000 nights booked in 48 hours in Ukraine this week as people across the world make bookings they don't intend to use as a way to raise money for Ukrainians On March 2/3: – 34,000 nights booked by US users – 3,000 from Canadians – 8,000 from UK
Pre-Order a Lovely Picture Book!
Here is an easy way to help a dad in Ukraine. The publisher of The Happiest Lion Cub lives in Ukraine and is the father to a three-year-old and a three-month-old baby. They are trying to survive the daily bombing.
Red Comet Press has translated the original book into English and it's available for pre-sale and ships in September.
Order via IndieBound here and also help independent bookstores.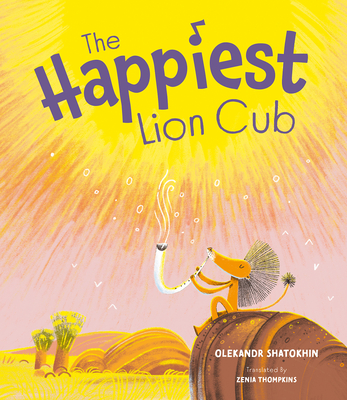 "Across the country, many Americans are desperate to support Ukraine as its people try to fend off a Russian invasion that has left hundreds dead, thousands homeless, and millions fearful of what could become of their country in the weeks ahead.
---
Ukrainian UCLA Student's Plea For Help
#1: Share information.
Other Resources to Help
---
And a few more:
FAMILY SPONSORSHIP

EVACUATION / REFUGEE

Helps evacuate Americans and Allies from Ukraine

International Rescue Committee

Started by the Romanian Embassy and Romanian United Fund

Evangelical Lutheran Church in America

FOOD

Provides fresh meals to families in crisis

Recommended by a few alums

CHILDREN

MILITARY

Through the National Bank of Ukraine

List of organizations that help the military

MEDICAL

GENERAL FUNDS

Ukrainian Congress Committee of America

LISTS OF NON-PROFITS

Believed to be setup by Michael McFaul (former ambassador to Ukraine)

Includes info on Meest-Karpaty, a Ukrainian shipping company that is sending a plane-load of supplies to Ukraine every week
To examine any book more closely at Amazon or IndieBound, please click on image of book.
As an Amazon annd Indie Bound Associate, I earn from qualifying purchases.
p.s. Here are some resources to talk to your kids about Ukraine that I found:
From PBS So Cal: How To Talk to Kids about the Ukraine Invasion
From Multicultural Children's Book Day Classroom Kit on Empathy covering Immigrants and the Refugee Experience
p.p.s. Related posts:
Middle Grade Books with Refugee Themes
Modern Immigration & The Refugee Experience Books for Kids
FREE Classroom Empathy Kit: Immigration & Refugees
p.p.p.s. Videos for Parents and Kids to Learn about Ukraine
How to talk to kids about Russia, Ukraine crisis l GMA
The Animated History of Ukraine
My books:

BEST #OWNVOICES CHILDREN'S BOOKS: My Favorite Diversity Books for Kids Ages 1-12 is a book that I created to highlight books written by authors who share the same marginalized identity as the characters in their books.