I'm half Japanese American but I've never celebrated Hinamatsuri, known as Girls' Day or Doll's Day, in Japan. It is celebrated on March 3 every year with a display of dolls representing the Heian court in a celebration to celebrate girls and wish for their continued good health and happiness.
An expansive hinadan in Katsuura, Chiba Prefecture from Nippon.com
The doll alter includes that of the Emperor, Empress, attendants, and musicians who are arranged on tiers with the most important figures on the top row. These dolls are on platforms covered in red material and are not meant to be played with, only looked at. The dolls wear traditional and elaborate kimono costumes! The dolls are an exquisite example of Japanese craftsmanship and are not inexpensive!
March 3 marks the observance of the hinamatsuri (doll festival), one of five sekku, or seasonal festivals, celebrated through the year. Together known as gosekku, these events took shape in part through the influence of Chinese philosophy and were first observed by courtiers during the Heian period (794–1185). They fell on the first day of the year's first month, the third day of the third month, and so on—dates considered to be highly auspicious owing to the doubling of odd numbers for the month and date. (On the modern calendar, they are celebrated on January 1, March 3, May 5, July 7, and September 9.) On these days, ceremonies were conducted and special dishes prepared and eaten to ensure good fortune.

Over time, the March sekku took on aspects of a broader tradition involving the making of simple paper dolls called hitogata. These dolls were common toys for children of aristocratic families as well as serving as katashiro, or emblems used in purification rituals. The hinamatsuri gradually became a time to give thanks for the health and development of young girls, thanks to the influence of a traditional form of doll play called hina-asobi.

March 3 is also referred to as momo no sekku, or the peach festival. The blossoms of the peach tree, which according to the lunar calendar bloom around the beginning of the third month, are not only prized as harbingers of spring but are traditionally thought to ward off malevolent spirits. These aspects, along with their beauty, have combined to make them an essential decoration of the hinamatsuri. from Nippon.com
The displays are typically brought out and put on display a few weeks prior to March 3rd and then taken down shortly thereafter. A set of dolls is typically purchased upon the birth of a baby girl or a set was passed down from the older generation. My family typically celebrated my birthday and my two siblings on the same day, and no, we are not triplets! The cake was always homemade and there were just a few presents. My father, who immigrated from China, prioritized a strict household budget that included a set aside for savings as a means to grow personal wealth. A fancy celebration was not in his budget.
My mother would not have had a set of Hinamatsuri; her parents immigrated from Japan and didn't have the means for this expensive purchase. And, even if they had, they would have lost it when they were forced to relocate during WWII for being Japanese Americans. (Note that the Day of Remembrance when 110,000 Japanese Americans including my mother's family were forced from their homes just a few weeks prior to Hinamaturi on February 19th).
I was excited to find a Hinamaturi display at my local Japanese market. It's the first time that I've seen these dolls up close. The dolls are ceramic with elaborate kimono clothing in the style from the Heian period, between 794 and 1185, when the capital of Japan was moved from Nara to Kyoto. It's the golden age of Japan's Imperial Court, known for its arts, particularly poetry and literature.
I hope you enjoy this Hinamatsuri display! We don't really celebrate many Asian holidays in our multicultural home but I'm going to send my daughters some Japanese confections to celebrate! Hina-arare, pink and white rice cake confections, and hishi-mochi, red and white rice cakes, are traditional sweets for this occasion! My mother would approve!
For a chapter book on Girls' Day, I recommend:
Jasmine Toguchi, Super Sleuth by Debbi Michiko Florence, illustrated by Elizabet Vukovic
It's a big weekend for Jasmine Toguchi! She's excited to celebrate Girl's Day―a Japanese holiday honoring women and girls―with her sister, mother, and best friend, Linnie. On Friday after school, Linnie comes over to plan their outfits for the Girl's Day celebrations. And Jasmine's neighbor, Mrs. Reese, lets them search through her old clothes for the perfect accessories. But the clothes are in her dark garage, which is kind of scary. And Linnie decides to go home early, which is kind of weird. And Jasmine's big sister, Sophie, doesn't seem to want to join in the Girl's Day fun this year, which is kind of confusing. WHAT is going on?
As her big weekend plans start to unravel, Jasmine must use her sleuthing skills to spot the clues around her―and within herself. Then maybe, just maybe, she can put everything back in order before Girl's Day is over! [chapter book, ages 6 and up]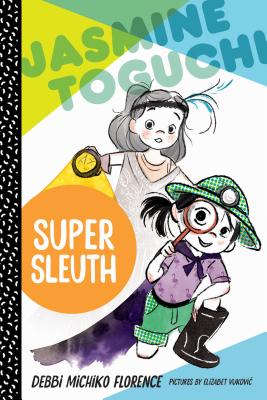 To examine any book more closely at Amazon or IndieBound, please click on image of book.
As an Amazon and IndieBound Associate, I earn from qualifying purchases.
My books:

BEST #OWNVOICES CHILDREN'S BOOKS: My Favorite Diversity Books for Kids Ages 1-12 is a book that I created to highlight books written by authors who share the same marginalized identity as the characters in their books.