Please welcome my guest author today, Abi Cushman. We both are huge fans of Richard Scarry's world, especially his book about Cars and Trucks and Things That Go! Her new picture book, Animals Go Vroom!, is also about transportation and we are giving away a copy! To enter, please fill out the Rafflecopter at the bottom!
What are your favorite books about trains, planes, cars, bicycles, or other modes of transportation? Thanks for sharing! My other favorite childhood book is Go Dog. Go! by P.D. Eastman! I loved that last spread of all the dogs in the treehouse!
—
When I was a kid, my parents bought me a copy of Richard Scarry's Cars and Trucks and Things That Go. I loved poring over all the illustrations, pointing at all the funny cars and trucks and their drivers. My favorite was the doughnut car. Fast forward to present time, and now my own kids enjoy picking out their favorite vehicles and seeing if they can spot Goldbug in each scene.
For all the transportation fans out there who are clamoring for more, I put together a list of fun new picture books that channel that Richard Scarry vibe to add to the rotation. These books feature interesting vehicles and drivers, busy streets, calamitous traffic scenes, and recurring characters to seek on each page. Loaded with vroomtastic kid appeal, these new transportation books are destined for repeat readings.
New Transportation Books for Fans of Richard Scarry
It's a noisy day in Bumperville, but who… or what… is making all that noise? In my interactive novelty picture book, readers are offered a peek at the next page with strategically-placed die-cut holes and challenged to guess what goes Roar, Hiss, or Honk. Along with a variety of vehicles and expressive animal drivers (plus an intensifying traffic jam), kids can look for a mama crow and her car-loving kiddo in each scene. [picture book, ages 2 and up]
Two Dogs on a Trike by Gabi Snyder, illustrated by Robin Rosenthal
It all starts with one dog scooting past on a trike, catching the eye of not only another dog but also a very sneaky-looking cat (fresh out the shower in a robe and towel). As more dogs join in the journey, they upgrade their vehicle of choice, riding on everything from a scooter to a spaceship. In this fresh and fun counting book, kids will love picking out their favorite dog, as each one is unique and brimming with personality. [picture book, ages 0 and up]
Go, Girls, Go! by Frances Gilbert, illustrated by Allison Black
This empowering book puts girls in the driver's seat, from tractors to trucks, to airplanes, and more. Rife with onomatopoeia, snappy rhymes, and bold illustrations, kids are in for a fun ride with this one. [picture book, ages 0 and up]
Featuring rollicking rhymes plus days of the week, this book follows a gorilla, a giraffe, an alligator, and an elephant as they take a construction project from start to finish. But what are they building? Kids will enjoy the bright, colorful animal characters and range of dynamic construction vehicles in this zippy read-aloud. [picture book or board book, ages 3 and up]
In this detailed seek-and-find book, we follow the Parade Committee (composed of five pigs), Mayor Snail, and Etta Elephant as they prepare for a big starlight parade. Funny and interesting pedal-powered vehicles abound on every page. Kids will love meandering through the illustrations, looking at all the cool bikes, including tandems, penny-farthings, boat bikes, food bikes, and more. [picture book, ages 3 and up]
Follow a family as they make their way through an airport, showing not only all the steps to air travel, but also an abundance of interesting vehicles like taxis, motorized carts, shuttles, and of course, airplanes! And eagle-eyed readers will enjoy searching for the family's missing sock monkey throughout the story as well. [picture book, ages 5 and up]
When a teacher asks about summer break, a student recounts a fantastical journey around the world that starts with a treasure map found at the beach. Kids will enjoy following the student on an adventure, hitching rides on pirate ships, submarines, hot air balloons, spaceships, and more. The humorous and detailed illustrations plus a twist ending make this one a sure favorite. [picture book, ages 6 and up]
Little Lobo takes Kooky Dooky on his new delivery bike out to el Coliseo to feed all the hungry wrestlers before their big match. You can almost taste the quesadillas, tacos, and churros being served from the panoply of food trucks and carts in this delicioso book. Not only will kids relish all the fun details in the busy city scenes (my favorite is the perro caliente mobile), they'll also take in some Spanish words and phrases along the way. [picture book, ages 6 and up]
Animals Go Vroom! GIVEAWAY!
We are giving away a copy of Animals Go Vroom! Please fill out the Rafflecopter below to enter. We can only mail to U.S. and A.F.O. addresses.
Abi Cushman is the author-illustrator of funny picture books, including ANIMALS GO VROOM! (Viking, 2021) and SOAKED! (Viking, 2020), which was a Kids' Indie Next List Top Ten Pick. She has also worked as a web designer for over 15 years, and runs two popular websites of her own: MyHouseRabbit.com and AnimalFactGuide.com, which was named a Great Website for Kids by the American Library Association. In her spare time, Abi enjoys running, playing tennis, and eating nachos. (Yes, at the same time.) She lives on the Connecticut shoreline with her husband and two kids.
If you like exclusive giveaways, wombats, and top-secret stuff, join Abi's email list. You can also learn more at www.AbiCushman.com or follow her on Twitter (@AbiCushman) or Instagram (@Abi.Cushman).
ANIMALS GO VROOM! rolls onto shelves on August 17, 2021. I am celebrating its arrival with a blog tour! Several of these stops include GIVEAWAYS. Follow along on social media using the hashtag, #AnimalsGoVroom, and find the schedule below: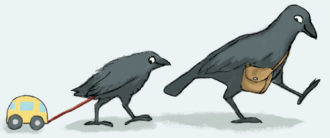 To examine any book more closely at Amazon, please click on image of book.
As an Amazon Associate, I earn from qualifying purchases.
My books:

BEST #OWNVOICES CHILDREN'S BOOKS: My Favorite Diversity Books for Kids Ages 1-12 is a book that I created to highlight books written by authors who share the same marginalized identity as the characters in their books.