Please welcome my guest author today, Emilie Boon who lives in my town! She has a new book out …
Ella & Monkey at Sea by Emilie Boon
Ella and Monkey must navigate their stormy emotions when they leave behind their beloved grandma and home in Holland, setting sail with Mama for their new home in America and a joyful reunion with Papa. [picture book, ages 3 and up]
She has created a book list of her favorite ten books on immigrating to America! We are giving away three copies of Ella & Monkey at Sea. Please use the Rafflecopter at the bottom to enter.
————–
I'm excited to celebrate the release of my book Ella & Monkey at Sea that I wrote and illustrated based on my own childhood. It's the story of just one little immigrant girl but millions of immigrants from all over the world came to America before and after her. I've picked 10 books that explore different immigrant experiences however there are many more. My main focus is on the actual journeys of immigrants coming to America. But I've also added a few bonus books about the experience of children and their families once they arrive. What is your family's history? Where did they come from? I hope these books will inspire you to learn more. We are a nation of immigrants!
Many thanks to the folks at Candlewick Press for donating 3 copies of Ella & Monkey at Sea for the giveaway, and much gratitude to Mia for graciously hosting me here!
My favorite 10 books on immigrating to America
1. Her Right Foot by Dave Eggers, illustrated by Shawn Harris
A fascinating look at the history of the Statue of Liberty and what she symbolizes. By examining just one trait of this iconic statue we are left with a powerful, poignant, and even patriotic reminder. A beautiful book! [nonfiction picture book, ages 6 and up]
2. Coming to America: The Story of Immigration by Betsy Maestro, illustrated by Susannah Ryan
This book is an accessible overview of the history of immigration to the United States through the 1990s. There are many cultures and ethnicities represented in child-friendly illustrations. It's a nice book to introduce the topic of immigration to very young readers. [nonfiction picture book, ages 4 and up]
3. Angel Island: Gateway to Gold Mountain by Russell Freedman
Most Americans have heard of Ellis Island, but have you heard of a place called Angel Island in San Francisco Bay? For 30 years it was one of the busiest immigration centers on the West Coast and generations of Asian immigrants came through there. This is a comprehensive, yet accessible book full of photos, artwork, and primary sources, ending with an excellent bibliography. [nonfiction chapter book, ages 10 and up]
4. The Matchbox Diary by Paul Fleischman, illustrated by Bagram Ibatoulline
A great-grandfather reminisces with his great-granddaughter, sharing with her a collection of matchboxes that served as his diary as a young boy. Growing up in Italy he and his family were illiterate. His collection of matchboxes with their content of tiny simple objects tells the story of his life in Italy, the journey to America, and his life in his new home country.  This is a beautiful book and immigration story. [picture book, ages 6 and up]
5. Somos Como Los Nubes/We Are Like the Clouds by Jorge Argueta, illustrated by Alfonso Ruano
This poignant and timely book gives us glimpses into what drives the thousands of children leaving Central America and arriving at the southern border of the US. Why are they leaving? What are there fears, hopes, and dreams? These bilingual poems are written from a child's perspectives and illustrated with evocative paintings. [bilingual Spanish/English picture book, ages 7 and up]
6. Grandfather's Journey by Allen Say
This story is about the author's grandfather leaving his home in Japan and making a new home in America, only to find that he misses the home of his youth. The love of two worlds is passed down to the author. This poignant book about feeling torn between two cultures speaks straight to the heart. This is a beautifully illustrated Caldecott winner. [picture book, ages 4 and up]
7. When Jessie Came Across the Sea by Amy Hest, illustrated by P.J. Lynch
Thirteen-year-old Jessie is chosen by the rabbi from her small village in Eastern Europe to go to America. Despite the heartbreak of saying goodbye to her beloved grandmother, Jessie sets sail with courage and hope to start a new life. This compassionately told story together with the gorgeous glowing watercolor and gouache illustrations is a memorable immigration story. [picture book, ages 6 and up]
8. My Diary from Here to There by Amada Irma Perez, illustrated by Maya Christina Gonzalez
A tenderly told story about the author's own immigration experience, written in the form of a diary. Although this journey is from Mexico to the US, the author expertly captures the universal emotions and trauma of leaving home and moving to a new place. The bold and bright illustrations teem with life. [bilingual Spanish/English nonfiction picture book, ages 6 and up]
9.  The Arrival by Shaun Tan
This book is one of my all-time favorites! It's a compelling, wordless graphic novel for the older reader. Shaun Tan's beautiful and haunting work set in fictional worlds perfectly captures the immigrant experience of leaving loved ones and arriving in strange lands with different languages and customs. A masterpiece! [graphic novel, ages 12 and up]
10. Teacup by Rebecca Young, illustrated by Matt Ottley
A lyrical text tells an allegorical tale that is perfectly complemented by the beautiful paintings. A story of a young boy who searches for a new homeland suggests a connection with immigrant stories that will resonate with anyone who has ever left home in search of a better place. [picture book, ages 4 and up]
Bonus books about the newly arrived immigrant experience
11. All the Way to America by Dan Yaccarino
A true story, affectionately told, about one family's history emigrating from Italy to America many years ago. It's the classic story of the immigrant dream. "Work hard, but remember to enjoy life and never forget your family," is the message that is passed down from generation to generation. Charming and warm illustrations are rendered in gouache. [nonfiction picture book, ages 5 and up]
12. Here I am by Patti Kim, illustrated by Sonia Sanchez
A wordless picture book from the perspective of a young boy recently arrived to the United States. With no words, the feelings of frustration that the boy feels at not being able to understand or read English are expertly conveyed in the expressive illustrations. [picture book, ages 5 and up]
13. I'm New Here by Anne Sibley O'Brien
This book is written from the perspective of three children at school who are new to America. Maria is from Guatemala, Jin is from Korea, and Fatimah is from Somalia. The author expresses the children's challenges and triumphs with compassion and an economy of words. The pictures perfectly complement the text showing many different ethnicities. [picture book, ages 5 and up]
14. Islandborn by Junot Diaz*, illustrated by Leo Espinosa
I read the Spanish version of this book, which added to the fun! Everyone in Lola's class comes from somewhere else, but Lola doesn't remember the island she left when she was a baby. This story is about Lola's quest and discovery, as she speaks to relatives and others from her community. Beautiful prose and fabulous colorful illustrations create a wonderful book on identity and belonging. [picture book, ages 5 and up]

15. Dear Juno by Soyung Pak, illustrated by Susan Kathleen Hartung
Juno lives in America and receives letters from his grandmother in Korea that he can't read but learns to decipher. My grandmother always played an important role in my life despite the fact that we lived on different continents. I love this sweet, gentle story about a grandchild and grandparent bridging the language gap and staying close while living far apart. [picture book, ages 3 and up]
One last Bonus…
16. The Journey by Francesca Sanna
This book is not specifically about immigrating to the US, but if you are looking for a book to help explain the plight of refugees to young children this could be a good choice. Although the story is based on many refugees' journeys, the story and pictures captivatingly convey the emotions involved when a family escapes a homeland besieged by war for an unknown new home. Beautiful, stylized illustrations create a powerful book. [picture book, ages 5 and up]
* This note is from Mia Wenjen (a.k.a. PragmaticMom). It is my policy to link any accused authors or illustrators who appear in my blog to my blog post on sexual misconduct in children's book publishing. Please note that Junot Diaz has been accused of sexual misconduct.
3 Book Giveaway of Ella & Monkey at Sea to 3 Winners!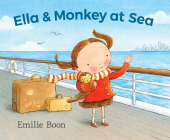 We are giving away three copies of Ella & Monkey at Sea. Please use the Rafflecopter below to enter. We can only mail to U.S. addresses.
Emilie Boon is the illustrator or author-illustrator of more than twenty books for young children. She was born in the Netherlands and spent her childhood in California and Mexico. Emilie later went back to the Netherlands to study graphic design at the Royal Academy of Art in The Hague. She has always loved to draw, especially with crayons, which she still uses regularly. Emilie lives in the Boston area. To learn more about Emilie's work please visit her website, tour her studio ), or visit her on Facebook and Instagram.
To examine any book more closely at Amazon, please click on image of book.
As an Amazon Associate, I earn from qualifying purchases.
p.s. Related posts:
Modern Immigration & The Refugee Experience Books for Kids
10 True Kidlit Immigration Stories by Sandra Neil Wallace
FREE Classroom Empathy Kit: Immigration & Refugees
New MCBD Classroom Kit: Activists & Activism!
10 Middle Grade Books about Immigrant Families
Chapter Books to Support 4th Grade or 5th Grade Immigration Unit
Meet Asian Pacific American Hero Haing Ngor
Undocumented Immigrants in Children's Literature
Immigrant Story: In The Year of the Boar
My books:

BEST #OWNVOICES CHILDREN'S BOOKS: My Favorite Diversity Books for Kids Ages 1-12 is a book that I created to highlight books written by authors who share the same marginalized identity as the characters in their books.