Please welcome my guest author today, illustrator Suzanne Kaufman, who talks about her inspiration for All Are Welcome in response to President Trump's travel ban. She wanted to do something positive, so she offered her skills as an illustrator to create a poster and the book was born of this effort.
All Are Welcome by Alexandra Penfold, illustrated by Suzanne Kaufman
This rhyming picture book gives children assurance that everyone is welcomed with open arms. This is a school where kids with patkas, hijabs, yarmulkes, and baseball caps play side by side. From eating food from around the world to celebrating Lunar New Year, this gentle picture book celebrates diversity in all the wonderful ways it is expressed. What is especially nice is that the poster that inspired this book is on the back of the book jacket! [picture book, ages 2 and up]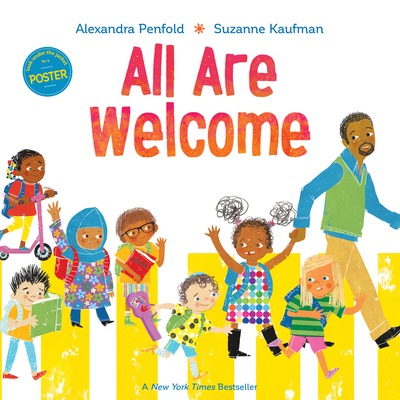 We are giving away a copy of All Are Welcome. Please fill out the Rafflecopter at the bottom to enter.
————
The Story Behind ALL ARE WELCOME !
A year ago, in December after the announcement of soon-to-be President Trump's planned travel ban, I felt deep sadness and completely helpless.  My daughters' school Kimball Elementary is comprised predominately of immigrant families from all over the world, from many different religious backgrounds. I wanted the kids in my community and all children to know they were safe and welcome at their school the next morning. Then I remembered a quote by Nina Simone.
 You can't help it. An artist's duty, as far as I'm concerned, is to reflect the times. 
I felt instantly compelled to do something, with the one thing I could freely give, my art.  So, I stayed up all night and made a poster to welcome all the kids to the school the next morning.
This still did not feel enough, so I posted it on social media to print for classrooms.  I hoped it could help other teachers and schools support their students.  Since posting, it has been printed by educators nationwide to let their families know they are safe and welcome in their schools.
My husband and I are fortunate to be raising our daughters in Beacon Hill, a multicultural neighborhood, nestled above downtown Seattle.  It is among one of the most diverse zip codes in the U.S.  Almost half of the residents are foreign-born and roughly 60 percent speak a language other than English at home. It's not uncommon to see girls in our school wearing hijabs. It's also not uncommon for the whole school to gather to learn a Vietnamese dance or celebrate the start of the Lunar New Year with a Lion Dance blessing. Our school's PTA meetings have the feel of a mini-United Nations and diversity and community are not just protected, but celebrated.
Around the same time, I published my art, the author, Alexandra Penfold received a letter (as did all the other NYC school parents) about how the schools would protect students right to receive an education and not turn over any immigration information. There are 25 different languages and dialects spoken in her son's school and 80% of children speak a language other than English at home. It was a shot to the heart for her to say the least.
That night before she went to sleep she saw someone had shared my poster on social media.  It was one of the last things she peeked at before going to bed.  She also felt the strong urge to put something out there that's reassuring to these same kids and woke up in the middle of the night with an idea for a story to go with the poster.
ALL ARE WELCOME Picture Book Giveaway!
We are giving away a copy of All Are Welcome. Please fill out the Rafflecopter below to enter. We can only mail to U.S. addresses.
Suzanne Kaufman lives in Seattle with her husband Jonathan and two monkeys, Eleanor and Katie, who sometimes pretend to be girls. Born in the Midwest, Suzanne grew up on healthy doses of Saturday morning cartoons and macaroni and cheese.
She has been monkeying around with children's books, animation and cartoons since she was little (that's her in the picture back in the 1970s!). Her style is inspired by midcentury design and 1950s-era cartoons.  Over the years, she's done everything from animating special effects for Universal and Discovery, to animating award-winning video games. One of those games—Sly Cooper—won the Children's Title of the Year award. She currently a senior lecturer for film and video game animation.
To examine any book more closely at Amazon, please click on image of book.
As an Amazon Associate, I earn from qualifying purchases.
My books:

BEST #OWNVOICES CHILDREN'S BOOKS: My Favorite Diversity Books for Kids Ages 1-12 is a book that I created to highlight books written by authors who share the same marginalized identity as the characters in their books.