Our theme for this #DiverseKidLit is books in a series. Series books are great for hooking readers because there's another book after you finish the first one! Share your favorite book series featuring diverse characters. (As always, the theme is only a suggestion. Diverse posts on alternate topics are always welcome.)
I have a few recommendations!
Grace Lin has three series: Ling & Ting (easy reader), Pacy Lin (chapter book), Where the Mountain Meets the Moon (four book chapter books series).
Ling & Ting are charming short stories that tie up in each book. This series has won many awards including a Geisel.
The Pacy Lin series most reflects Grace Lin's own childhood.
Where the Mountain Meets the Moon 4 book series
These are companion books but the most recent one is starting to tie back to her previous books. Lin weaves Chinese folk tales and mythology into her award-winning series.
Rita Williams-Garcia's trilogy is a multigenerational family story that includes the Civil Rights Movement Black Panther movement as well as living in Oakland, Alabama and Brooklyn.
Joseph Bruchac's series is a departure but it's clear that he's having fun writing dystopian young adult adventures with a Native American female protagonist.
Claudia Davila's graphic novel series covers environmental topics for young readers.
What Is #DiverseKidLit?
Diverse Children's Books is a book-sharing meme designed to promote the reading and writing of children's books that feature diverse characters. This community embraces all kinds of diversity including (and certainly not limited to) diverse, inclusive, multicultural, and global books for children of all backgrounds.
We encourage everyone who shares to support this blogging community by visiting and leaving comments for at least three others. Please also consider following the hosts on at least one of their social media outlets. Spread the word using #diversekidlit and/or adding our button to your site and your diverse posts.
We hope this community serves as a resource for parents, teachers, librarians, publishers, and authors! Our next linkup will be Saturday, August 5th. We will only be hosting one linkup per month (on the first Saturday) for the summer months.
Upcoming Theme
Our theme for the current month is books in a series. Series books are great for hooking readers, because there's another book after you finish the first one! Themes are a suggestion only; all diverse book posts are welcome. If you're interested, you can start planning now …
Our theme for August (5th) will be socioeconomic diversity. What are your favorite books for honoring characters and families who come from somewhere other than the 1% or even the upper/middle classes? We look forward to seeing your choices!
Most Clicked Post from Last Time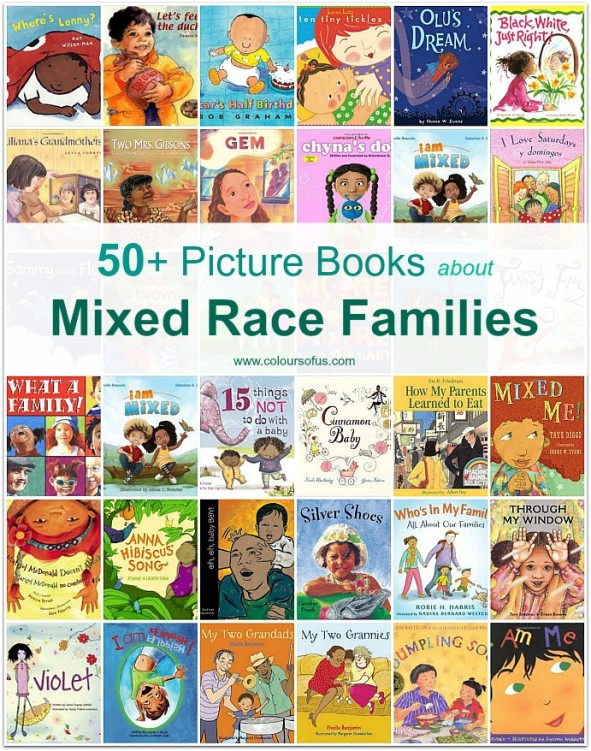 The most-clicked post from the previous #diversekidlit was this incredible resource from Colours to Us: 50 Picture Books about Mixed-Race Families. Wow!
#DiverseKidLit is Hosted by:
Want to be notified when the next #diversekidlit linkup goes live? Click here to join the mailing list. Interested in joining as a host or an occasional co-host? Contact katie at thelogonauts.com.
(Never participated in a linkup before? Please click here for a more detailed step-by-step.)
Get #DiverseKidLit Recommendations on Pinterest!
Our Pinterest board highlights a wide range of amazing posts and resources for Diverse Children's Books. Please consider following the board for even more great books!
Share Your Link Below
Loading InLinkz ...
 To examine any book more closely at Amazon, please click on image of book.
As an Amazon Associate, I earn from qualifying purchases.
My books:
BEST #OWNVOICES CHILDREN'S BOOKS: My Favorite Diversity Books for Kids Ages 1-12 is a book that I created to highlight books written by authors who share the same marginalized identity as the characters in their books.