My college boyfriend's first job was working for his uncle's educational publishing company which made these Big Book picture books. I remember him calling me (we had broken up after college but were still friendly) that he was so nervous at his first sales presentation. He psyched himself up by turning away from the classroom of children and teachers, and said to himself, "I went to Harvard, I can do this." Then he turned around and wowed the crowd.
He read a Big Book to the kids and he was amazed that a little boy guessed the surprise ending right off the bat. He just couldn't believe that that kid figured it out that there was an animal reveal at the end. I think it was a cheetah.
My friend moved on from this job to do other things, but he gifted me two Big Books for my birthday. I wasn't sure what to do with them. They were really big books. They didn't fit in my bookcase. Now, of course, they would really come in handy. Who doesn't love a really Big Book for a read-aloud? The sad thing is that there are hardly any diverse titles for Big Books. A reader asked me for a list, and I dug around and found these.
Do you do read-aloud? What other Big Books do you recommend? Thanks for sharing!
Big Book Format Diversity Picture Books for Read-Alouds
The Colors of Us (big book format) by Karen Katz
Multicultural colors reflect a wide range of skin tones that pair with different kinds of food in this diversity picture book. With engaging illustrations, this picture book is a nice way to introduce diversity through skin color in a positive way: cinnamon, chocolate, honey, coffee, toffee, and butterscotch. They sound so delicious. [Big Book picture book, ages 4 and up]

Flower Garden (big book format) by Eve Bunting
It's a lot of effort to plant a lovely window box garden but a little girl and her daddy work on it all day in their brownstone apartment because it's a special surprise for someone they both love! [Big Book picture book, ages 2 and up]
Handa's Surprise (big book format) by Eileen Browne
Set in Africa, Handa sets off with fruit in her basket for her friend Akeyo. It's a surprise for everyone when she arrives.  She finds that while her original fruit is missing, there's still fruit in her basket! [Big Book picture book, ages 2 and up]
Here Are My Hands by 
A diverse cast of characters presents the different parts of the body in rollicking rhyme. [Big Book picture book, ages 2 and up]
My Five Senses (big book format) by Aliki
Learn about the five senses with charming illustrations of a little boy of color — perhaps Asian or half Asian? — by Aliki. The story is a little dry but the Big Book format will help because the children can act out each sense. [Big Book picture book, ages 2 and up]
In the Tall, Tall Grass by Denise Fleming
A young boy of color explores nature in the tall, tall grass. With rhyming verses, the creatures in the grass are revealed. [Big Book picture book, ages 2 and up]
In the Small, Small Pond by Denise Fleming
This is also a singable book! A young boy of color explores what's happening in a small pond. [Big Book picture book, ages 2 and up]
This bilingual Spanish series is from Kaplan.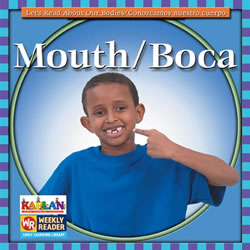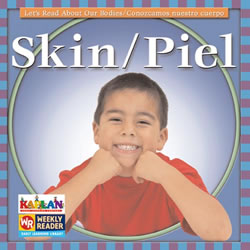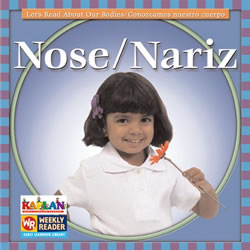 p.s. Related posts:
Read Aloud Book Lists by Grade
26 Perfect Read Alouds for Kindergarten'
10 Perfect 5th Grade Read Alouds
10 Perfect Read Alouds for 4th Grade
19 Perfect Read Alouds for 1st Grade
10 Perfect Read Aloud Books for 2nd Grade
Five Amazing Diversity Read Aloud Books for All Ages & Kid Lit Blog Hop