Our theme for this month's Diverse Children's Books linkups is Favorite Children's Books Featuring an LGBTQ Character(s). (The theme is only a suggestion. Diverse posts on alternate topics are always welcome.)
Here are a few of mine:
Picture Books with LGBTQ Parents
The Family Book by Todd Parr
Todd Parr's inimitable voice assures readers that whether your family has two dads, two moms, or something else, every family is special in its own unique way. [picture book, ages 2 and up]
Stella Brings the Family by M
This gentle story of Stella's dilemma for her school Mother's Day event showcases her loving family with two dads. [picture book, ages 4 and up]
Heather Has Two Mommies by Lesléa Newman, illustrated by Laura Cornell
Heather has a lot of things that come in pairs: arms, legs, pets … and moms! She has Mama Jane and Mama Kate. When she starts kindergarten, she realizes that she might be the only one without a daddy. But when her class draws a picture of their family, Heather realizes that every family is special and that it doesn't matter how many mommies or daddies your family has. [picture book, ages 4 and up]
And Tango Makes Three by 
A true story from New York's Central Park Zoo illustrates that it only takes love, even in the animal kingdom, to make a family. The penguin house is home to two daddy penguins who adopt an egg and hatch a baby.  [picture book, ages 4 and up]
Mommy, Mama, and Me by 
With rhyming text, this picture book depicts a loving lesbian couple with their toddler. [picture book, ages 3 and up]
ABC A Family Alphabet Book by 
This alphabet book celebrates LBGTQ diversity in families but the point of this book is teaching the alphabet. I like how diversity is presented as every day. [picture book, ages 2 and up]
This Day in June by 
Join in this celebration of the LGBT community and use this award-winning picture book as a tool for teaching understanding lesbian, gay, bisexual, and transgender (LGBT) people and families. [picture book, ages 4 and up]
Queer Heroes: Meet 53 LGBTQ Heroes from Past & Present! by Arabelle Sicardi, illustrated by Sarah Tanat-Jones
53 LGBTQ role models are detailed from all over the world in this anthology from Sappho to Audre Lorde to Frida Kahlo to Leonardo Da Vinci to Tim Cook. The short profiles are engaging and informative and the list of 53 notables is eye-opening and inspiring. [nonfiction anthology, ages 8 and up]
Bilingual Spanish LGBTQ Picture Books
One of a Kind, Like Me/Único Como Yo by Laurin Mayeno, illustrated by Robert Liu-Trujillo, translated by Teresa Mlawer
This is a gentle story introducing gender diversity. Danny wants to be a purple princess for the school parade, and his family helps him create a costume from thrift store finds. The author hopes that her book gives children a sense of belonging and courage to be who they are, and an appreciation for people who are different from themselves. [bilingual Spanish picture book, ages 4 and up]
My Dad is a Clown/Mi Papa Es Un Payaso by José Carlos Andrés and Natalia Hernandez Josa Carlos Andras
This charming bilingual Spanish picture book starts off with a boy who is called a clown in anger. He doesn't mind. His dad is a clown and he knows what important work is. His other dad is a doctor; together they sneak into clown rehearsal and realize how grueling it is. As the boy ponders his loving fathers and the work they each do, he comes up with a plan to combine both for his future profession. [picture book, ages 4 and up]

Here's a resource for more LGBTQ books: LBGT Book Lists for Kids of All Ages.
What Is #DiverseKidLit?
Diverse Children's Books is a book-sharing meme designed to promote the reading and writing of children's books that feature diverse characters. This community embraces all kinds of diversity including (and certainly not limited to) diverse, inclusive, multicultural, and global books for children of all backgrounds.
We encourage everyone who shares to support this blogging community by visiting and leaving comments for at least three others. Please also consider following the hosts on at least one of their social media outlets. Spread the word using #diversekidlit and/or adding our button to your site and your diverse posts.
We hope this community will grow into a great resource for parents, teachers, librarians, publishers, and authors! Our next linkup will be Saturday, November 19th and on the first and third Saturdays of every month.
Upcoming Theme
Our theme for the current linkup is Favorite Children's Books Featuring an LGBTQ Character(s). Themes are a suggestion only; all diverse book posts are welcome. If you're interested, you can start planning now for our upcoming themes …
November 19th linkup we will continue with Favorite Children's Books Featuring an LGBTQ Character(s). Looking for ideas? Check out the Stonewall Book Awards for Children's Literature.
December linkups: Favorite Holiday Books. (Please feel free to share any holiday resources, not just winter holidays.)
Most Clicked Post from Last Time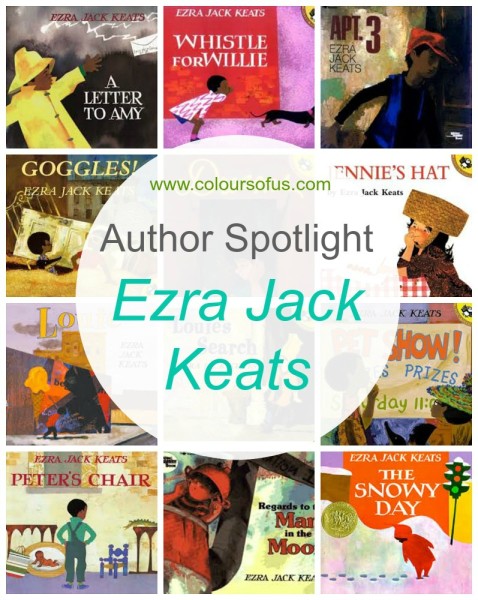 Our most-clicked post from the previous #diversekidlit linkup is Svenja's Author Spotlight on Ezra Jack Keats. She provides a detailed biography as well as information about his most popular books and characters. Want to learn even more? A new biography of Ezra Jack Keats by Andrea Davis Pinkney just came out this week, titled A Poem for Peter.
#DiverseKidLit is Hosted by:
Katie @ 
The Logonauts
Blog
/
Twitter
/
Facebook
/
Pinterest
Beth @ 
Pages and Margins
Blog
 / 
Twitter
 / 
Facebook
 / 
Pinterest
Carolina @
La Clase de Sra. DuFault
Blog
/
Twitter
/
Facebook
/ Google+Gayle Swift, Author of
ABC, Adoption & Me
Blog /
Twitter
/
Facebook
/ Google+Jane @
Rain City Librarian
Blog
/ Twitter / InstagramMarjorie @
Mirrors Windows Doors
Blog
/
Twitter
/
Facebook
/
Pinterest
Mia @ 
Pragmatic Mom
Blog
 / 
Twitter
 / 
Facebook
 / 
Pinterest
 / 
Instagram
Myra @ 
Gathering Books
Blog
 / 
Twitter
 / 
Facebook
Want to be notified when the next 
#diversekidlit
 linkup goes live?
Click here to join the mailing list
. Interested in joining as a host or an occasional co-host? Contact katie at thelogonauts.com.(Never participated in a linkup before?
Please click here for a more detailed step-by-step
.)
Get #DiverseKidLit Recommendations on Pinterest!
Our Pinterest board highlights a wide range of amazing posts and resources for Diverse Children's Books. Please consider following the board for even more great books!
p.s. Related posts:
LGBTQ Book Lists for Kids
To examine any book more closely at Amazon, please click on image of book.
As an Amazon Associate, I earn from qualifying purchases.
My books:

BEST #OWNVOICES CHILDREN'S BOOKS: My Favorite Diversity Books for Kids Ages 1-12 is a book that I created to highlight books written by authors who share the same marginalized identity as the characters in their books.