Meeting Wonder Author, R. J. Palacio, was Wonderful!
PickyKidPix and I attended an Understanding Our Differences author visit featuring R. J. Palacio of Wonder.
We learned a few things:
R stands for Raquel
R. J. Palacio's message in life and in her book is: "Choose kindness over being right."
A visit to a local ice cream shop changed her life, causing her to write this
I was so impressed with the kids who attended the sold-out author event. The questions were coming in a never-ending stream — as written questions but also several lines of kids waiting their turn for the mike.
The questions were so insightful too. An author's dream audience, I would imagine. They were so interested in every word she had to say. So empathetic for the characters. So engaged! We actually ran out of time for questions and not a single adult asked a question — there was no way we'd deprive the kids of their questions.
These were some of the questions that I remembered and I've paraphrased the answers as best I could.
Q: What was the name of the ice cream shop?
A: Carvels.
Q: Is Justin an older Auggie?
A: YES! He's also the only outsider that can give us a perspective on Auggie and his family. The book pivots around this character. He's a minor character who plays a significant role. He's the outsider point of view.
Q: Why did you end the book on a happy note?
A: Because as the author, I get to choose the ending.
Q: What was your favorite part of the book?
A: The scene after they flee the woods, and Auggie is brave enough to hold his hand up for a high-five he's not sure he will receive.
Q: Is Jack's experience at the ice cream shop what happened to you?
A: Yes. I was waiting outside with my toddler in his stroller facing me. I worried that he was going to turn around and cry or make a scene when he saw a little girl with a severe facial deformity. I was scared for her so I wanted to move him away quietly without anyone noticing. Unfortunately, it didn't turn out that way. When my son came out of the ice cream shop holding three chocolate milkshakes, I tugged on his arm too hard in my haste to leave. He ended up dropping all three milkshakes and we rushed off. During all this commotion, the little girl's mother said calming to her kids, "Come on girls, it's time to leave." I felt terrible that I might have made that little girl feel bad. That night, I couldn't stop thinking about that incident and how I could have, should have, handled it better. I wrote the first sentence of Wonder on a post-it note.
Q: Will you write a sequel?
A: Probably not. It feels like the story is complete.
Q: Will Wonder become a movie?
A: Maybe. It's in development now but the sticky point will be who will be cast in the role of Auggie. I am adamant that it should NOT be an actor who is made up to look like he has a facial deformity. I would want a child to be cast in this role who has this condition and that will be a tough sell in Hollywood. (She gave details of this condition but I'm afraid that I can't remember the specific name for it.)
I was thrilled to meet R, J. Palacio!
Wonder is on my List for Potential Newbery Award
I have Wonder as a potential 2013 Newbery Honor book. I don't think it will win the award straight out but I'm hoping for an honor. It's getting a lot of buzz. Fingers crossed!!
Wonder by R. J. Palacio
After being homeschooled all his life, 10-year-old August "Auggie" Pullman is starting 5th grade at a private middle school in his Upper East Side neighborhood. He wonders if anyone will realize that he's just a normal kid underneath his severely disfigured face, an affliction he was born with. His middle school classmates are challenged to "be kinder than is necessary" but can they? Will they? In this uplifting story, it turns out that everyone carries some kind of disfigurement that feels isolating, even though most can't be seen. Readers will cheer for Auggie as he experiences acts of kindness that do indeed change his world. I'd hand this book to boys or girls in grades 4th-6th, particularly for those with special needs classmates.
Book Club for Kids using Wonder by R. J. Palacio
Food: grilled cheese and chocolate milk for lunch.
Activity: Hold a mirror up and try to write your name backwards on the paper. This activity is from Understanding Our Differences and mirrors what it's like to have Dyslexia.
Examine at Amazon by clicking on book.
Wonder Book Club Discussion Guide
1. Don't judge a boy by his face
What do you think of the line 'Don't judge a boy by his face' which appears on the back cover of the book?
Did this affect how much you wanted to read the story?
How much did this line give away about the story you were about to read?
2.  Auggie's appearance
Throughout Wonder, Auggie describes the way that many people react to seeing his face for the first time: by immediately looking away. Have you ever been in a situation where you have responded like this to seeing someone different? Having now read Wonder, how do you feel about this now?
Auggie's face is not fully described until quite far on in the story, in Via's chapter 'August: Through the Peephole'. How close was this description to your own mental picture of Auggie? Did you have a picture of his face in your mind while reading the book? Did this description alter that picture?
3.  Auggie's personality
How would you describe Auggie as a person in the first few chapters of the book? What about the final few chapters? Has he changed significantly? Are there any experiences or episodes during the story that you think had a particular effect on him? If so, how?
4.   The astronaut helmet
In the chapter 'Costumes' Auggie describes the astronaut helmet that he wore constantly as a younger child. We later learn that Miranda was the one to give Auggie the helmet, and is proud of the gift, but that it was Auggie's father who threw it away. What do you think the helmet signifies to each of these characters and why do you think they all view it so differently?
5.  At the ice cream parlour:
The author has explained that she was inspired to write Wonder after an experience at a local ice cream parlour, very similar to the scene described in the chapter 'Carvel', where Jack sees Auggie for the first time. In this scene, Jack's babysitter Veronica chooses to get up and quickly walk Jack and his little brother Jamie away from Auggie, rather than risk Jamie saying something rude or hurtful. What do you think you would have done, if put in that position?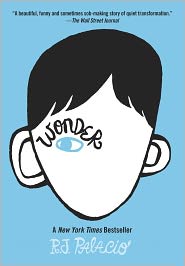 Examine from Barnes and Noble by clicking this image.
To examine any book at Amazon, click on image. As an Amazon Associate, I earn from qualifying purchases.
My books:

BEST #OWNVOICES CHILDREN'S BOOKS: My Favorite Diversity Books for Kids Ages 1-12 is a book that I created to highlight books written by authors who share the same marginalized identity as the characters in their books.