Halloween can be every child's favorite holiday! The candy might last but for a few weeks, but Halloween-themed books can stretch the holiday out all year!
It's interesting that the ghost/monster/ghoul chapter books are all set in boarding schools. Could this be an influence from Harry Potter?
These Halloween pictures and chapter books can be enjoyed year-round and would make a nice gift or a fun book club for kids. If I were a grandparent or a doting aunt, and I wanted to send just one book to several siblings, I'd go with the Horrible Hauntings interactive advanced picture book. It feels like a book that is going to change all the rules about books, ebooks, and reading experiences.
The boarding school-themed Halloween chapter books range in age. Monster High is girly and skews younger. Scary School would make a great bedtime book because the chapters read as short stories though there is an overarching story.
What are your favorite Halloween-themed books with ghosts, goblins, and other monsters? Do these types of books scare your kids at all?
p.s. I have more Halloween-themed books here. Doodles and Jots has a spooky list here.
Halloween Picture Books and Chapter Books for Ghoulish Fun
Patrick McDonnell's last book was the Caldecott honor book Me … Jane but if no one told me that, I probably wouldn't have realized through his charming cartoony illustration style is consistent in both books. The characters he draws seem very sweet and friendly and I think that is the charm of his work. McDonnell's newest picture book is about monsters — Grouch, Grump, and Gloom 'n Doom  — who act … monster-y. Which is to say bratty and ill-behaved. But they are ingenious enough to create their own enormous, big, bad, Frankenstein monster that they name "Monster." Despite having creators with poor manners, Monster has delightful etiquette. He's polite and zen-like. And it turns out that good manners are contagious. [picture book, ages 2 and up]
The age of interactive printed books has arrived! This picture book of infamous ghosts (or perhaps ghosts with just really good PR agents) comes with a QR code that lets you download a free app to see AND interact with the ghosts featured in the book! Fiendishly clever! Prepare to be terrified as you meet: The Flying Dutchman, Abraham Lincoln, The Princes in the Tower, Whalley Abbey, The Brown Lady, The Headless Horseman, The Haunted Gallery, The Amherst Poltergeist, The Black Dogs, and Bloody Mary.
The app is delighting my 7-year-old and requires iPhone app savviness plus manual dexterity. We used a QR scanner app to download the app, then use this app to see the ghosts. It's a little tricky to get the page within the app viewfinder but it lets you know when you're good to go. Certain ghosts then allow for interactivity though it's tricky to manipulate the screen while holding the iPhone in place over the book. You might need two people as we did.
It's worth it though!! Picture books as iPhone app games! Yep, we've reached that milestone folks! This should be a great draw for reluctant boy readers!!!
p.s. My son was not scared at all by the ghosts on the app/picture book but he did love the experience! He also showed his two older sisters and they liked the app too. The only downside is that the app detracts the kids from the actual story so I'd suggest reading the book FIRST before any downloading is allowed. [interactive picture book, ages 9 and up, or younger if your child is fearless with regard to cartoon-y animated ghosts]
A modern boarding school for monsters and ghouls complete with girl bully is the premise for this fairly straight forward easy chapter book by School of Fear author Gitty Daneshvari. The best part of the book is Gitty's endless puns for both character names and more: Frankie Stein, Cy Clops, Home Ick, Clawd Wolf, iCoffin, Skulltimate Roller Maze Team. Can you guess the reference? There is something afoot at Monster High and it's not the trolls or weird students, it's the way they are acting.
I thought the culprit was pretty obvious halfway through the book and I'm sure young readers will feel the same. Still, for girls who like Legally Blonde meets The Adams Family meets Scooby Doo, this is a good fit. My young son informs me that this is now a cartoon series. There is a goofiness to this easy chapter book that would animated well. [easy chapter book, ages 7 and up]
Gitty's School of Fear series skews slightly older than Monster High but the idea of a boarding school as the setting is the same. The students at the School of Fear are dealing with their debilitating phobias that include spiders (arachnophobia),  death (thanatophobia), water (aquaphobia), and small spaces (claustrophobia). Add in a pig-faced tabloid reporter bent on destroying the school and the fun begins. The School of Fear must go off campus to seek help from their counterpart, The Contrarian School. Doesn't everyone have some kind of fear? Kids with or without phobias will enjoy this chapter book series. [chapter book, ages 9 and up]
Here are the first two books in the series although you can read them out of order as I did. It doesn't ruin the story!
For kids who like the quirky vignettes of Sideways Stories of Wayside School by Louis Sachar, this is a ghost-authored version. If you'll notice, the author is Derek the Ghost, so forgive my bad pun. Scary School is a boarding school for mortals and monsters where dying is no big deal as pupils just return as ghosts or baby dragons. This casual response to the dangerous and odd goings-on is what makes Scary School a fun read. The violence is purely comic book variety. Nothing bad really happens. And the voice of Derek the Ghost is light-hearted and amusing. There is a plot that revolves around a competition putting the students at risk, but no one including the reader gets too worked about the danger. We are all just having too much fun! [chapter book, ages 7 and up]
This is the newest Scary School!
Would you be shocked if Ghost Knight is set in a haunted boarding school? Hmm… perhaps Harry Potter was just a tad too popular?! Like Harry Potter, Ghost Knight is set in England and the beauty of this book is the history of the hauntings allows the plot to delve into English history. For anyone who read The Dark is Rising series, this is the PG version — a lighter, shorter, and easier-to-read version.
Out of the Halloween chapter books on this list, Ghost Knight is the most realistic. Young Jon Whitcoft lands in boarding school in Salisbury, England where he finds himself in the middle of an ancient grudge match fought by ghostly knights. [middle grade, ages 8 and up]
To examine any of the items listed, please click on image of item.
As an Amazon Associate, I earn from qualifying purchases.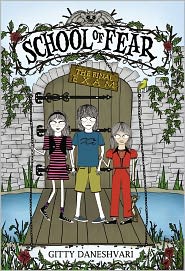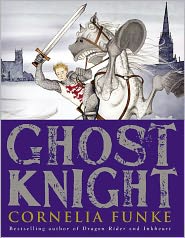 p.s. Related posts:
Halloween Picture Books and Chapter Books
Halloween Multicultural Children's Book Club & GIVEAWAY!
New Halloween Picture Books & GIVEAWAY!
New Halloween Book Round Up & GIVEAWAY!
Halloween Notebook Novels for Boys & GIVEAWAY!
Halloween Ghosting: A Tradition in My Town That My Kids LOVE!
Halloween Fake Fingers to Get Kids Reading
My books:

BEST #OWNVOICES CHILDREN'S BOOKS: My Favorite Diversity Books for Kids Ages 1-12 is a book that I created to highlight books written by authors who share the same marginalized identity as the characters in their books.