Grace Lin's Latest Chapter Book Deserves Newbery
I don't think there was a 4th grade or 5th grade kid I knew who read Where The Mountain Meets the Moon by Grace Lin and didn't rave about it though they were generally girls. It could be that Minli is a girl. I hope Lin's audience broadens with her latest companion book, Starry River of the Sky. Rendi, the lead character, is a BOY! And he couldn't be more different than Minli who is cheerful despite poverty and hardship.
Grace Lin weaves Chinese folk tales into her own adventure of a young boy who rebels against his cruel and uncaring father by running away, ending up in a remote village where the moon never shines. There is something strange about the people who live here too, including a mysterious moaning cry that only Rendi seems able to hear.
In this second tale, Lin's characters seem more realistic compared to Minli's unflagging good cheer in Where The Mountain Meets the Moon. True, there are also mystical creatures in Starry River of the Sky but they are more veiled. It's this magical realism, with emphasis on realism, that I hope will attract boys to her latest book.
In both books, her beautiful and intricate illustrations help to subtly tell the tale and she uses Chinese cut paper art as a reference point as well as borders that mimic intricate Chinese brocade weavings. Both these art references are appropriate. Paper puppets were used traditionally to tell stories as entertainment and would include mythology stories. In a way, Lin's books are a modern version of itinerant Chinese puppet storytellers.
And weaving is what Lin does best in melding centuries upon centuries of Chinese mythology into a modern yet timeless story that still speaks to human characteristics of greed, love, and rebellion.
I think that Starry River of the Sky is the stronger of her much-lauded two books, though Where the Mountain Meets the Moon deserved Newbery accolades. The only thing that prevents her second from winning Newbery gold is the similarity of the stories. Where the Mountain Meets the Moon was such a revelation of "modern" Chinese Mythology retelling that Starry River of the Sky will seem like an old idea. I hope the judges will view it as a separate entity. As a standalone book, it is as good, if not better!
I was lucky to get a short interview with her:
1) Was it deliberate that Rendi seems to be the polar opposite of Minli both in temperament and social standing?
Ha, it's funny you say that because Minli was based a bit on me, and Rendi was based a bit on my husband! But Rendi is the first boy protagonist that I have written, I wasn't trying to make him the polar opposite of Minli but I did want to make sure he was distinctly different.
2) Mountains and moons figure into both Where the Mountain Meets the Moon and The Starry River of the Sky. Was there a particular Chinese mythology tale that prompted this as the anchor for both books or was there several stories that collided into your books? Alternately, was there something personal about those stories that spoke to you?
Well, my favorite Chinese holiday is the Moon Festival and there are so many Chinese stories and legends that revolve around the moon.  It wasn't really a specific tale that inspired me, but rather the whole genre!  It seemed natural, to me, to find a way to make all the stories connect even though they did not originally.
3) What made you embrace your "Asian-ness" post-childhood?
After high school, I went to the art school—the Rhode Island School of Design and they had a special program where you could study in Rome, Italy for a year. I participated in the program and went to Italy.
It was there that I suddenly realized how little I knew about my own heritage. Italians were so proud of their history and culture, and while I am American I couldn't claim the pioneers of the West in my ancestry. But the ancestry I could claim, my "Asian-ness" I knew absolutely nothing about. And that made me feel sad and suddenly I yearned to know more.
4) I am hoping there will be more companion books … please?! Is there another book in the works?
There should be one more, I hope! In my head I wanted to have three, each book representing an element : sky ("Where the Mountain Meets the Moon"), earth ("Starry River of the Sky") and water (the book to come!). I have inklings of ideas for it but they are still percolating…and it might not be about water even though I want it to be. Stories have a way of being obstinately about what they want to be About.
To examine any of the items listed, please click on image of item. As an Amazon Associate, I earn from qualifying purchases.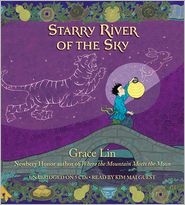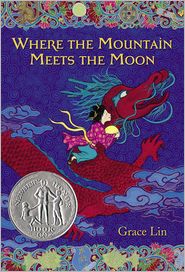 I received a review copy of Starry River of the Sky in order to participate in the blog tour. I believe it was my enthusiasm for Grace Lin's work that landed me a spot. My opinions are my own but honestly, I am a huge fan of Grace Lin's books!
My books:

BEST #OWNVOICES CHILDREN'S BOOKS: My Favorite Diversity Books for Kids Ages 1-12 is a book that I created to highlight books written by authors who share the same marginalized identity as the characters in their books.