Painting Koi Fish Art Project for Kids
The Koi fish at the Grant Hyatt Resort in Kauai were so beautiful that we surreptitiously fed them as you can see in the videos. I had never seen so many Koi fish swimming together with such gorgeous colors. I was inspired to turn this into an art project after seeing Deep Space Sparkle's gorgeous 6th grade Koi fish paintings.
I wanted to capture the movement of the Koi fish, rather than fuss with trying to render it accurately. (If that is your thing, here's a guide that uses simple shapes to get the basic drawing of the fish. It's perfect for kids who want a realistic rendition.) I'm aiming for an abstract painting that is more about color, movement, and shape than representational.
Because I'm not an art teacher, I had to recruit my kids to give it a whirl. They protested but once the project was set up with some creative painting canvas ideas, they seemed to have fun doing it. We painted it very fast on small postcard size pieces of heavy watercolor paper. (Arches 140-pound cold press. I love that paper!). I'd suggest giving each person 3 or 4 squares of paper and doing a new painting for each video plus one for the still.
I played three videos of Koi fish. Each video has a different style of music. Try making a painting for each video using the music to inspire your art. How does music affect what and how you paint? Feel free to stop any video if you are inspired to capture that image as well. Anything goes. This is for fun!
This first video has a mellow rock and roll soundtrack.
This second video has piano music.
This last soundtrack is techno but very soothing.
Here's a still image if the movement is too distracting. If you'd like to paint one fish more representationally, here's a basic outline from HowToDrawGuide.com.
And this is what we turned out.
Who knew that a koi pond could have a built-in "skyscraper" or a sun-filled observation tower so that the fish could look across their landscape… or maybe they think they're swimming in the sky? Via Neatorama.
Chinese Painting Techniques for Exquisite Watercolors by Lian Quan Zhen
For anyone who wants to try Chinese brush painting to capture the Koi fish, this is a great book.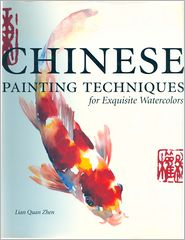 Follow PragmaticMom's board Art with Kids on Pinterest.


To examine any of the items listed, please click on image of item. As an Amazon Associate, I earn from qualifying purchases.
My books:

BEST #OWNVOICES CHILDREN'S BOOKS: My Favorite Diversity Books for Kids Ages 1-12 is a book that I created to highlight books written by authors who share the same marginalized identity as the characters in their books.