Baby Elephant Mud Bath and Books for Kids
Another email from my nearly 90-year-old mom with this video of a baby elephant taking a mud bath. That she's on YouTube is amazing! I'm posting a bunch of her emails; the pollination video was from her.
I discovered that there is an elephant sanctuary in Tennessee. The Elephant Sanctuary in Tennessee, founded in 1995, is the nation's largest natural habitat refuge developed specifically for endangered African and Asian elephants. The Sanctuary operates on 2,700 acres in Hohenwald, Tennessee — 85 miles southwest of Nashville. It costs $125k a year for one elephant and they want to rescue 100.
Elephants, and dolphins, for that matter, live in communal groups like humans and apes. But unlike apes and humans, they don't kill each other. Does that make them more evolved? What do you think?
Elephants have strong individual personalities that affect how they interact with other elephants, how others perceive them, and how well they are able to influence members of their group. For example, some elephants are popular while others are not. Some elephants show strong leadership qualities, others do not; some are highly social "extroverts", while others are less social, "introverts."  from Elephant Voices
Water for Elephants (and Mud too!)
Top 10: Baby Elephant Books
There are a lot of famous classic picture books with anthropomorphic  elephants. Is this because we have always found elephants so human-like?
Classic Picture Books
Dumbo (Little Golden Book) by RH Disney
Everyone's favorite big-eared little elephant finds his way to the skies in this uplifting Little Golden Book. With artwork from the 1940s, all of the original charm and beauty of the Disney classic can be found in this vintage book.
The Saggy Baggy Elephant (Little Golden Book) by Kathryn Jackson
 After a parrot makes fun of Sooki's big ears, long nose, and wrinkled skin, the "saggy baggy" elephant isn't too sure of himself. But once he meets some beautiful creatures who look just like him, Sooki celebrates with a joyful "one-two-three-kick." For over 50 years, parents and children have treasured this tale, with gorgeous art by Gustaf Tenggren, the illustrator of The Poky Little Puppy.
 Horton, the lovable elephant, tries to protect tiny creatures on a speck of dust. An easy reader with delightful verse and pictures.  
Bonjour, Babar!: The Six Unabridged Classics by the Creator of Babar by Laurent de Brunhoff
In 1931 Jean de Brunhoff created Babar, a little elephant who walked out of the jungle and into the hearts of civilized readers the world over. Widely recognized as the father of the picture book, Jean de Brunhoff wrote and illustrated six Babar stories before his early death in 1937. Every word and every picture of these classics is included in this big, inviting gift edition.
Uncle Elephant (I Can Read Book 2) by Arnold Lobel
A little elephant visits his Uncle Elephant, who makes wishes come true, tells amazing stories, and even trumpets the dawn!
 New Classics-to-Be
Elephant and Piggie series by Mo Willems
Gerald is careful. Piggie is not. Piggie cannot help smiling. Gerald can.Gerald and Piggie are best friends.
In We Are in a Book! Gerald and Piggie discover the joy of being read. But what will happen when the book ends?Using vocabulary perfect for beginning readers (and vetted by an early learning specialist), Mo Willems has crafted a mind-bending story that is even more interactive than previous Elephant & Piggie adventures. Fans of the Geisel Award-winning duo won't be able to put this book down–literally!
The Magician's Elephant by Kate DiCamillo
In a highly awaited new chapter book novel, Kate DiCamillo conjures a haunting fable about trusting the unexpected — and making the extraordinary come true.
What if? Why not? Could it be?
When a fortuneteller's tent appears in the market square of the city of Baltese, orphan Peter Augustus Duchene knows the questions that he needs to ask: Does his sister still live? And if so, how can he find her? The fortuneteller's mysterious answer (an elephant! An elephant will lead him there!) sets off a chain of events so remarkable, so impossible, that you will hardly dare to believe it's true. With atmospheric illustrations by fine artist Yoko Tanaka, here is a dreamlike and captivating tale that could only be narrated by Newbery Medalist Kate DiCamillo. In this timeless fable, she evokes the largest of themes — hope and belonging, desire and compassion — with the lightness of a magician's touch.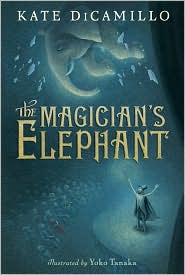 Non-Fiction 
Baby Elephant (Penguin Young Readers, L3) by Ginjer L. Clarke
From their first steps in the African grassland to their first time using their trunks to drink water, baby elephants are fascinating and beautiful creatures! Learn all sorts of interesting facts about baby elephants in this Level 3 reader.
Eyewitness: Elephant by Ian Redmond
Discover the world of elephants — their natural history, behavior and how humans have changed their lives.Here is a spectacular and informative guide to the fascinating world of elephants. Superb color photographs of Asian and African elephants, their living relatives and reconstructions of their ancestors offer a unique "eyewitness" view of these remarkable animals, their natural history and relationship with people. See the adult "tusker", inside an elephant's mouth, a baby elephant feeding, an elephant in a threatening posture, elephants at work, and an elephant painting a picture. Learn how to tell an African from an Asian elephant at a glance, why elephants are worshipped, how long an elephant's tusks can grow, how elephants "talk" to each other, and why the future of elephants is threatened. Discover why elephants walk on their tiptoes, how much food an adult elephant eats in a day, the cruelty of the ivory trade, why elephants flap their ears, what an elephant does to keep cool, how intelligent elephants are, and much, much more.
And the Tenth Book For Mom
Water for Elephants: A Novel by Sarah Gruen
As a young man, Jacob Jankowski was tossed by fate onto a rickety train that was home to the Benzini Brothers Most Spectacular Show on Earth. It was the early part of the great Depression, and for Jacob, now ninety, the circus world he remembers was both his salvation and a living hell. A veterinary student just shy of a degree, he was put in charge of caring for the circus menagerie. It was there that he met Marlena, the beautiful equestrian star married to August, the charismatic but twisted animal trainer. And he met Rosie, an untrainable elephant who was the great gray hope for this third-rate traveling show. The bond that grew among this unlikely trio was one of love and trust, and, ultimately, it was their only hope for survival.
Follow PragmaticMom's board Science Fun on Pinterest.


To examine any of the items listed, please click on image of item. As an Amazon Associate, I earn from qualifying purchases.
My books:

BEST #OWNVOICES CHILDREN'S BOOKS: My Favorite Diversity Books for Kids Ages 1-12 is a book that I created to highlight books written by authors who share the same marginalized identity as the characters in their books.