Best Asian American Chapter Books
I met CoolAsianKids, Chloe and Eileen, who agreed to guest post for me on their favorite Asian American authors in between basketball camp, Chinese immersion camp and driver's ed:
Attached is our list of 10 favorite books by Asian American authors. Sorry it took so long to write. First, my sister and I couldn't agree on the list, then every time we start to write, we got side tracked by wanting to actually re-read some of the books because they were so fun to read. Then, my sister went to a Chinese immersion camp for a few weeks and I had to wait for her to get back to finalize. Well, here it is. 
Thanks guys! What are your favorite Asian American books for kids, tweens or teens? I have mine here:
—————-
Best Multicultural Books for Kids
When we choose books to read, we don't usually look specifically for books that are written by Asian American authors, because a good book is a good book, no matter what the ethnicity of the author is. However, many great books we've read are written by Asian American authors.  Most of these books address the topic of coming to, or living in America, and  accepting one's own cultural differences.  Some of these books are about the sad story of Asian immigration history, and some are tales from the old country. Our favorites are usually ones humorously told about American kids like ourselves who grow up like Americans, but who also happen to appreciate their families' ethnic backgrounds.  Here are a few of our favorite books by Asian American Authors.
Dance, Dance, Amy-Chan by Lucy Ozone Hawkinson
Lucy Hawkinson is a Japanese American author who wrote and illustrated dozens of books in the 1960s. Her books are no longer in print but can be found used online. We know about her through our friend Ruby's mom who is the daughter of Lucy Hawkinson. What's interesting about Ms. Hawkinson is that her books depicted kids of all ethnicities, sizes, and other differences.which was pretty unusual for that time period. Dance, Dance, Amy-Chan is an especially charming illustrated book about two Japanese American girls getting ready for their local Obon Festival. The drawings in the book are very cheerful and friendly, and even the black and white drawings are cute, with a lot of details on the kimonos, hair, accessories, and Japanese toy dolls. Ms. Hawkinson really captured the feel of the Obon Festival which we are familiar with because we've worked at one of the Obon booths for our Asian American basketball team every year. [picture book]
The Moon Lady by Amy Tan
While Amy Tan is known for her very famous adult works, such as The Joy Luck Club and The Kitchen God's Wife, does anyone know that Amy Tan also wrote a children's book called The Moon Lady? It's the tale grandmother Ying-Ying tells to her grandchildren about the Mid-Autumn festival and her encounter with the Moon Lady, a woman who can grant wishes.  Part of what makes the book fun is seeing how much Ying-ying matures as the story goes on.  The illustrations are a bit garish, but the story provides a new and interesting chapter to the tale of the Moon Lady. [picture book]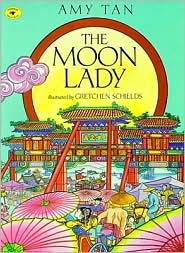 Lon Po Po by Ed (Tse-Chun) Young
Ed Young wrote and illustrated 80 books in his lifetime. He would write and retell old Chinese folktales and bring them to life with his beautiful illustrations. The book we remember the most is the story of Lon Po Po (Grandma Wolf). This is a Little Red Riding Hood-like story about three sisters who stay at home alone and are endangered by a hungry wolf disguised as their grandmother. They have to use their wits to outsmart the wolf. Young's full-page illustrations and use of dark colors portrays the mood, setting and menacing situation faced by the girls.  The illustrations won Young won the Caldecott Award in 1990. [picture book]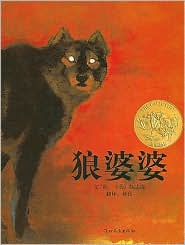 Crow Boy by Taro Yashima
This is a 1956 Caldecott Honors picture book about an unnamed, scared little boy that kids ignored in school. He was always alone, left out of everything, and being made fun of in school, but he came to school everyday anyways. He was knowledgeable of all the plant and animal species and only during graduation did kids find out that he was especially gifted in imitating the voices of crows because he listened to them everyday on his hours long walk to and from school. His schoolmates and their parents realized that despite all their taunting, this kid was hardworking and persevered to get an education and they found respect for him. [picture book]
Yang the Youngest and His Terrible Ear by Lensey Namioka
Yang the youngest is from a family immigrated from China.  The family tries hard to fit into American society. There are four kids in the family. Three of them are gifted musicians and their parents want to showcase the kids' musical abilities by having them form a music quartet. The only problem is, Yang the youngest, has a terrible ear for music and hates it. The book is about recognizing and accepting a person's strengths and Yang the 4th brother eventually got to ditch violin and pursue what he likes: play baseball. [chapter book, ages 9 and up]
The Journal of Wong Ming Chung, a Chinese miner by Laurence Yep
Like most historical fiction about the founding of America, this one also goes on and on about hardship and perseverance. However, this was a school required reading book and surprisingly, the story made learning about Chinese American history interesting. This book describes the life of a Chinese miner in America through the eyes of a young Chinese boy, Bright Intelligence.  It accurately describes the hardships facing Chinese immigrants during California's Gold Rush and makes us appreciate some of our ancestors' immigrant past in this country. [chapter book for 4th or 5th grade; perfect for immigration unit]

American Born Chinese by Gene Luen Yang
This is the funniest version of the Monkey King story told in comic book style. It has 233 pages of colored comic book pages with chapters describing three seemingly different stories: The traditional Chinese Monkey King story, the story of a Chinese American middle school boy who wants to be American in order for the rest of his school (and a girl he likes) to accept him, and the story of an all American boy named Danny who has to deal with his Chinese cousin Chin-Kee coming into his life.  American Born Chinese focuses on a very common theme of Asian kids wanting to gain acceptance in America, and Gene Yang is able to make the story humorous and poignant at the same time. This comic book has won rave reviews and many awards. [Young Adult graphic novel, ages 12 and up]
Millicent Min, Girl Genius by Lisa Yee
This is a chapter book about a lonely  eleven year old prodigy taking classes in college who is trying to make her first friend, Emily Ebers by hiding her intelligence, while having to tutor her "mortal enemy" Stanford Wong, the dumb jock. This book is witty, funny, and painfully awkward at times because Millicent is so unaware of social expectations despite being a genius. It's laugh out loud funny when we picture this briefcase carrying kid tackling the task of making friends as if she is tackling a homework assignment. It's definitely a MUST read. [chapter book, ages 9 and up]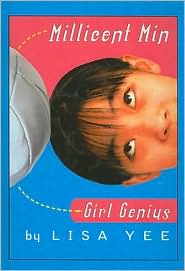 Clara Lee and the Apple Pie Dream by Jenny Han
This is the story of Clara Lee, a Korean American girl in 3rd grade who wants to be Little Miss Apple Pie in the all American town of Bramley. Clara Lee had to overcome her fears of public speaking and prove to everyone and herself that she is as American as her competitor Dionne Gregory who is born and bred in Bramley. With the help of her grandpa's encouragement and her good luck she may just become Little Miss Apple Pie after all. This is a chapter book with some some black and white illustration by Julia Kuo. [beginning chapter book, ages 7 and up]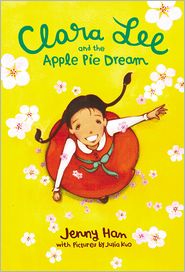 The Great Wall of Lucy Wu by Wendy Wan-Long Shang
Sixth grader Lucy Wu who is very Americanized, feels that her year is ruined because she has to share her room temporarily with her great aunt who comes to visit from China, her parents force her to go to Chinese school, and she may lose her spot on her basketball team.  The book about accepting one's family's bicultural experience is funny and does not feel forced, and in the end, all is well. [chapter book, ages 9 and up]
To view any book at Barnes and Noble and Amazon, please click on image of book. As an Amazon Associate, I earn from qualifying purchases.
Follow PragmaticMom's board Multicultural Books for Kids on Pinterest.


To examine any of the items listed, please click on image of item. As an Amazon Associate, I earn from qualifying purchases.
My books:

BEST #OWNVOICES CHILDREN'S BOOKS: My Favorite Diversity Books for Kids Ages 1-12 is a book that I created to highlight books written by authors who share the same marginalized identity as the characters in their books.