Best Interior Design Books
DesignTrackMind calls these beautiful interior design coffee table books "design porn." I found this great list on Casa Cullen's wonderful blog and added a few from DesignTrackMind to get this Top 10 List … interestingly, they like some of the same books! Even if you are not in the throes of redecorating, these are fun reads.
I had a successful shopping trip with Capability:Mom to Brimfield Antique Fair a few weeks ago — a giant outdoor affair lasting several days — and I'm still trying to figure out how to create a "tableaux" on my dresser using my newly acquired $1 silver plated serving platter. My biggest score, though, was a structured handbag from the fifties that turned out to be real crocodile that I got for $15.
I'm not sure why I'm having so much trouble creating a "tableaux." The instructions from professionals are pretty simple: use objects you love of different heights and give them some breathing space. I guess that why there are professional designers out there. If you don't one of them at your disposal, these books are almost as good!
p.s. If you like this post, you might like my multicultural posts called Teach Me Tuesday. Most cover artisans and interior design in other countries: Africa Bamileke, Vietnam Lacquer Painting, Modern Spanish Design, Sri Lanka Design and Artisans, Burmese Architecture, Guatemalan Fair Trade Weaving and Jewelry, Japanese Shogunate Family Crests, Lao Artisans, Korean Chosun Chests, and Chinese Buddha Heads. At least, this is what I have written so far. To stay up to date, please sign up for email updates or Networked Blog updates on the right hand sidebar.
10. My Prescription for Anti-Depressive Living by Jonathan Adler
I've been reading and hearing a lot about Mr. Adler lately and the opinions are the same: his stuff makes you happy! I went to his store for the first time a few months ago and it's true; his store is so colorful, upbeat and fun that it just puts you in a good mood!
9. David Hicks: A Life in Design by Ashley Hicks
He's such a guru of design that I've even heard of him! His style is relaxed, eclectic and livable. Not to mention gorgeous.
8. Small and Chic: High Style for Small Spaces by Bridget Vranckx
7. Modern Glamour: The Art of Unexpected Style by Kelly Wearstler
She definitely has glamorous style and taste. I am not the right person to ask as I am probably too conservative to appreciate her rule-breaking style. I wish I could do it but it's just not me.
6. Rooms to Inspire in the Country: The Infinite Possibilities of American House Design by Annie Kelly
DesignTrackMind likes this book.
5. New Classic Interiors by Alessandra Branca
4. Domino: The Book of Decorating: A Room-by-Room Guide to Creating a Home That Makes You Happy by Deborah Needleman
3. Downtown Chic: Designing Your Dream House: From Wrecking to Ravishing by Robert Novogratz
2. Style and Substance: The Best of Elle Decor
The ladies at work all love Elle Decor.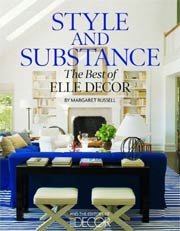 1. Hue by Kelly Wearstler
This got the #1 spot because both DesignTrackMind and Casa Cullen like it.
To examine any book more closely at Amazon, just click on the image of the book.