Japan: Children's Books, Culture, and Art of Shogun Period
I have been thinking of doing a Teach Me Tuesday on Japan for a long time and now, with Japan in the news, I am a little tongue-tied. My mother's side of the family is from Hiroshima and though we have a cousin who now lives in Tokyo, all are safe and sound. So this post is for everyone who has ties to Japan, either through family or emotionally (and that is probably most of the world as we look on with empathy and try to help).
The books I've chosen reflect a version of my own family history. Yoko's Paper Cranes by Rosemary Wells is lushly illustrated with nods to Hiroshige's iconic block prints called ukiyo-e. Allen Say is another favorite author of mine and his chapter book reflects his personal story of a young aristocratic boy who is determined to learn cartooning from a famous artist in The Inn-Keeper's Apprentice. Both books traverse between two worlds, which I think, reflect the simultaneous push-pulls of the history of Japan with respect to the United States. In the case of Yoko's Paper Cranes, the two worlds are the distance between the United States and Japan. In The Inn-Keeper's Apprentice, there are also the two different worlds of pre and post-war Japan.
My Family History (Daimyo versus Samurai)
My own family history is a microcosm of the history of Japan which I studied a bit in college — Chinese history, my other heritage, being so much older was a more daunting academic challenge. My mother thought it important to make sure that we knew that our family was from the Daimyo class, who were feudal lords of vast holdings of inherited land. My mother said that we were distantly related to the emperor but not through blood but marriage. Only the emperor used the chrysanthemum as the royal crest but if your family was related through blood, their family crest (called Ka-Mon)  would include the chrysanthemum.
Samurai, which is a term more widely known, were the military nobility loyal to a particular Daimyo family. I learned from a museum in Japan that there was something like 22 ranks of Samurai, determined by birth. It was possible to become a samurai much like a stable boy in England could be knighted. In the case of Japan, even an exceptional stable boy could make the lowest rank of samurai.
Throughout much of Japan's history, there were power struggles between the emperor and the daimyo ruling class. When the daimyo class was powerful and united, the leader ruled the country as Shogun (which is a more well-known term thanks to James Clavell).
To keep the daimyo in check, the emperor required each family to send a contingent to the court as ladies-in-waiting that served to forge ties and as hostages. When Admiral Perry showed up in 1853, he forced Japan to open the country and this is considered the trigger that caused the downfall of the Edo Shogunate. The Meiji Restoration that followed put the emperor back into power and the ruling class was stripped of their land.
This part of history is now personal. My great uncles and great grandparents' fortunes were land-based so with their lands gone, they had no means of income. Worse, part of their lost lands contained sacred burial grounds of ancestors and needed to be purchased back. My male relatives immigrated to Hawaii to work the sugar cane and pineapple plantations — something that was meant to be temporary that turned into forever — in order to earn the money. When my great-uncle married in Hawaii, he was disowned for not marrying within his rank. That seems so silly now but that was the way it was back then.
My grandparents immigrated to San Francisco and without knowing English, worked as house servants and also ran a boarding house. Such is the immigrant experience. Other daimyo fared better. The most famous daimyo descendants today in Japan include Morihito Hosokawa, the 71st Prime Minister, and figure skater Nobuari Oda.
The Japanese American story would not be complete without remembering their forced internment during WWII and after that bad experience, the was much effort made to assimilate; much more so, in my opinion, than any other Asian ethnic group here in America. My mother and her family were forced to most of their belongings behind to move to a remote part of Utah where the nukes were tested underground. Their samurai swords were left hidden in their boarding house, hidden between the studs of a wall but never to be retrieved again.
In a final weird twist of fate, my brother married my lovely sister-in-law who is also Japanese American and her sister-in-law is from Hiroshima also. It turns out that she was from a samurai that served my family as we all have the same family crest. They had made baseball caps with the crest and when our cousin from Japan sent us a copy of our family crest, it was virtually identical (see above, ours is the second one to the right on the first row). It is, indeed, a small world!
Both images from The Book of the Samurai: The Warrior Class of Japan by Stephen R. Turnbull, page 82.
p.s. The family crest follows the mother's side of the family. I thought that was interesting as it indicates a more matriarchal society though I am not sure if this is actually true.
Children's Books on Samurai Culture
Yoko communicates with her grandparents back in Japan by sending them origami cranes as a reminder that she, too, will return to visit just like the cranes in their garden. [picture book, ages 4 and up]
A young boy from an aristocratic family follows his own destiny by apprenticing with a famous cartoonist. This is Allen Say's own story set in post-war Japan. [middle grade, ages 9 and up]
I wanted to add a few more books that I've just discovered that fit this theme of Samurai KidLit thought these books appeal more to boys than girls:
Moonshadow series by Simon Higgins
This is a fast-paced, samurai sword-wielding adventure series set in medieval Japan.  Moonshadow is a ninja samurai on a dangerous spying mission whose success will prevent a civil war from breaking out. Both Shogunate Japan and sword fighting come alive. Author Simon Higgins is a martial arts swordsman expert so he really knows his stuff.
Newbery Honor winner!
*Starred Review* Manjiro is 14 when a freak storm washes him and his four fishing companions onto a tiny island far from their Japanese homeland. Shortly before starving, they are rescued by an American whaling ship. But it's 1841 and distrust is rampant: the Japanese consider the whalers barbarians, while the whalers think of the Japanese as godless cannibals. Captain William Whitfield is different—childless, he forges a bond with the boy, and when it comes time for Manjiro to choose between staying with his countrymen or going to America as Whitfield's son, he picks the path of adventure. It's a classic fish-out-of-water story (although this fish goes into the water repeatedly), and it's precisely this classic structure that gives the novel the sturdy bones of a timeless tale. Bracketed by gritty seafaring episodes—salty and bloody enough to assure us that Preus has done her research—the book's heart is its middle section, in which Manjiro, allegedly the first Japanese to set foot in America, deals with the prejudice and promise of a new world. By Japanese tradition, Manjiro was destined to be no more than a humble fisherman, but when his 10-year saga ends, he has become so much more. Wonderful back matter helps flesh out this fictionalized version of the same story told in Rhoda Blumberg's Shipwrecked! The True Adventures of a Japanese Boy (2001). Grades 7-11. –Daniel Kraus from Booklist
For anyone who wants to read a *free* short story about Manjiro, Barbara Terao is sharing hers here.

I had this book in my bookshelves and just uncovered it. It's another great story that makes 16th century Japan come alive!
"To enter THE SAMURAI'S TALE is to immerse oneself completely in sixteenth-century Japan when powerful warlords struggled for supremacy. Seldom does a historical novel evoke the mood, color, and soul of an era as skillfully as this one does. . . .THE SAMURAI'S TALE, poetic yet unflinching, is excellent." Boston Herald
My son and I loved learning about this real-life samurai warrior-hero, Minamoto Yoshitsune. His life is like a Greek tragedy from Homer's times. Pamela S. Turner brings Japanese history to life with epic battles, drama, and intrigue.  [young adult nonfiction, ages 12 and up]
Shogun by James Clavell
If you want an enjoyable beach read set amid the turmoil of Shogunate Japan, this is a classic! [adult fiction]
Ando Hiroshige
I love these iconic block prints called ukiyo-e. My mother bought some a long time ago when she visited Japan and now they are collectible but dependent on condition. There was a time when merchants would use imperfect prints as newsprint and wrap goods with them. If you read Yoko's Paper Cranes, you'll notice Rosemary Well's references to these prints in her gorgeous illustrations. To me, Hiroshige is the most famous Japanese ukiyo-e artist, but he was also influenced by his contemporary, Hokusai, whose works are below. I think Hokusai is a little too old-fashioned for me. What do you think?
Katsushika Hokusai
Japanese Family Crests
These days the Japanese family crests are used by graphic designers to portray "Asian" or "Japanese" motifs. They are beautiful examples of branding though, don't you think?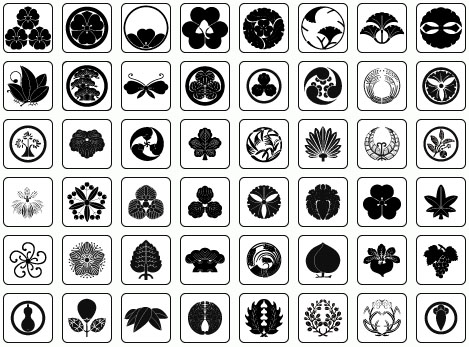 Post-WWII Japanese Cartoonist
I don't know who the cartoonist was in
The Inn-Keeper's Apprentice
, but it could have been
Osamu Tezuk
a who was a 
Japanese
cartoonist
, 
manga artist
, 
animator
, 
producer
, and medical
 doctor
, although he never practiced medicine. Born in 
Osaka Prefecture
, he is best known as the creator of 
Astro Boy
, 
Kimba the White Lion, and
Black Jack
. He is often credited as the "Godfather of 
Anime
", and is often considered the Japanese equivalent to 
Walt Disney
, who served as a major inspiration during his formative years. His prolific output, pioneering techniques, and innovative redefinitions of genres earned him such titles as "the father of 
manga
", "the god of comics" and "
kamisama
of manga".

To examine any of the items listed, please click on image of item.
As an Amazon Associate, I earn from qualifying purchases.
My books:

BEST #OWNVOICES CHILDREN'S BOOKS: My Favorite Diversity Books for Kids Ages 1-12 is a book that I created to highlight books written by authors who share the same marginalized identity as the characters in their books.