Guatemala for Kids through Books, Culture and Food
I landed in Guatemala because I actually had no idea of what to post on but I keep an email folder of "books that I want to read" from all the blogs that I read and Libertad came up and that was it for me. I don't know much about Guatemala though my oldest just did a unit on the ancient civilizations of South and Central America I always get the Aztecs mixed up with the Mayans. I think she had the Mayans, though.
The picture book, Mama & Papa Have a Store, reminded me of the beautiful weavings that I've seen and friends have brought back bookmarks and satchels made from the cloth but I actually didn't realize that the weavers would buy thread to make the fabric. Somehow I'd envisioned them carding and dying wool or growing cotton. You know, soup to nuts, style.
Finally, I haven't read Like Water for Chocolate in decades but I LOVED that book. It was one of the first books with magical realism that I ever read and I was delighted to find a short chapter book, Salsa Stories, very much like that book. And to get the author's family recipes is such a bonus.
Have you ever been to Guatemala? Please share your experiences even if they are only arm-chair like mine! And let me know if you find these multi-cultural posts helpful when planning a book club meeting for kids or a home school project. I think it might be a fun time to read one of the books and make the recipe. I always love to learn about new cultures through food!
History of Guatemala
"The fabled Maya people flourished throughout the Yucatan Peninsula and Guatemala for centuries. This very advanced civilization constructed great cities, grand palaces, pyramids, and observatories, as well as advanced works of art, astronomy, literature, and mathematics.
For somewhat mysterious reasons, the Maya society began its general decline across the entire area in the 10th century, yet remnants of this extraordinary people and a quite sizeable population of descendants still exist in Guatemala and all across the Yucatan today.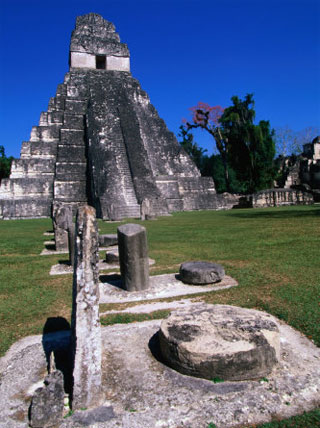 Tikal, UNESCO World Heritage Site, AllPosters.com
In fact, even though they remain the largest population majority in the country and their languages and religions survived, they sadly live in poverty, and if you will form an almost forgotten and repressed minority-majority.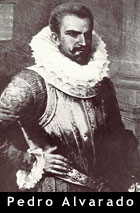 When the Spanish conquistadors and their leader, Pedro de Alvarado, arrived in 1523, they quickly defeated the weaker Maya forces and aggressively began the colonization of the land; large farms were established and the remaining Indians were forced to work for them.
For the almost 300 hundred years that followed, the Spanish colonial powers ruthlessly exploited and persecuted the remaining Maya, all but erasing their culture from the map of world history.
After the overthrow of the Spanish King by Napoleon, Guatemala and others declared their independence from Spain in 1821. Then, Guatemala, as well as Costa Rica, El Salvador, Honduras and Nicaragua formed the United Provinces of Central America, but that federation quickly dissolved, and Guatemala became an independent republic in 1838.
Unfortunately (like many new countries) this new country experienced a lengthy series of coups, dictatorships, insurgencies, human atrocities, and long stretches of brutal military rule.
In the 1940s, two reformist presidents were elected; presidents that permitted free expression, legalized unions, encouraged social reform, and the formation of political parties. It's referred to as the "Ten Years of Spring," but it was short-lived.
In 1949 the Guatemalan Party of Labor (PGT), the communist party in Guatemala was formed. It gained prominence during the government of Col. Jacobo Arbenz.

Arbenz was forced out of the office and the repressive military regained control, and eventually, Guatemala slipped into a 36-year civil war; over 200,000 civilians were murdered, and of course, the country's economy was ruined.
Eventually the USA – the major supplier of military assistance to the country – tired of the civil war, and eliminated all of its financial aid; this action finally forced the election of a civilian, but controversies and coups would quickly return.
Finally, in 1996, the government signed a peace agreement with the leftist rebels, formally ending the conflict which had left countless people dead and over one million homeless refugees.
And then what happened? Well, currently the country has stabilized, but I would stay tuned, as Guatemala's government (be it civilian or military) frequently alters it course." from World Atlas
Children's and Young Adult Literature
Mama and Papa Have a Store by Amelia Lau Carling
An advanced picture book depicting life as Chinese immigrants in Guatemala running a general goods store. I liked how the book follows the pace of the day and meeting the people as they trickle into the store or hang outside the store:  Don Chus who sells religious watercolor paintings; El ciego, the blind man who sells lottery tickets; La chiclera, the candy lady; the native Indians who come from far away to buy thread to weave cloth; and Don Chema, the Chinese bean curd seller from their parent's hometown in China. [picture book, ages 6-12]
Rainbow Weaver/Tejedora Del Aroíris by Linda Elovitz Marshall, illustrated by Elisa Chavarri
Just like the women in Gambia, the Mayan people in Guatemala turned to discarded plastic bags for upcycled weaving creations. This bilingual Spanish book tells the story of a young girl who wants to help her family sell weavings at the market. There's no thread to spare, so she decides to use plastic bags. You can purchase their creations at Mayan Hands. [picture book, ages 4 and up]
Salsa Stories by Lulu Delacre
This is a short chapter book not unlike Laura Esquivil's Like Water for Chocolate minus the magical realism and the romance drama. So what is similar? The stories … each person at Carmen Teresa's birthday party tells her a story that has a food memory embedded within it, and each person also happens to be from a different Spanish-speaking country. The stories are as delectable as the food described in it and the recipes, as a bonus, are actual family recipes pass down from author Lulu Delacre's own family, and are included in the back of the book (and I've included a few from Guatemala in this post). [short chapter book, ages 8-14]
The Only Road by Alexandra Diaz
Review from Randomly Reading:
After his cousin Miguel is killed for refusing to join a gang, Jaime, 12 and his cousin Ángela, 15, flee their small Guatamalan town to avoid Miguel's fate, hoping to cross the Mexican border in New Mexico and safety. [chapter book, ages 8 and up]
Libertad by Alma Fullerton
When a freak accident kills their mother, Libertad and his little brother Julio are no longer safe living on their own near the Guatemala City Dump. Libertad knows that surviving by their wits alone won't be enough to send his brother to school or give them any hope for the future. There is only one thing to do. Earning their way as street musicians, they will set out on the long and dangerous journey to the Rio Grand River, where they will somehow find a way to cross into the United States and find their father. from book jacket [novel in verse, ages 14-adult]
Recipes from Salsa Stories
Flor's Torrejas (Guatemalan "French" Toast)
1/2 pound French Bread
1 cup milk
ground cinnamon to taste
3 eggs lightly beaten
vegetable oil for frying
Cut bread into 1/2 inch thick slices and dip into milk. Sprinkle both sides with cinnamon, then dip into eggs and fry, turning once, until golden on each side. Serve with syrup.
Syrup
2 cups sugar
1 cup water
1/4 teaspoon salt
1 thin cinnamon stick
zest of one lime
Combine all ingredients in a saucepan and boil over high heat without stirring for until syrup thickens slightly, about 20 minutes.
Flor's Bacalao a la Vizcaina (Codfish Stew)
1 pound dried, salted codfish fillets
water
one 6 ounce can tomato paste
1/2 cup olive oil
1/4 cup pimento-stuffed Spanish olives
1 tablespoon capers
2 garlic cloves, peeled and crushed
1 bay leaf
4 medium potatoes, peeled and thinly sliced
2 medium onions, peeled and thinly sliced
Soak codfish fillets for four hours in water, changing the water twice. Drain well. Place codfish in stock pot with 8 cups of water and boil for 15 minutes. Drain and let cool. Discard skin and bones and then shred the flesh. Mix tomato paste with 1 cup water and olive oil, and stir until paste is smooth. Add olives, capers, garlic, and bay leaf to the tomato mixture. In a large frying pan, arrange alternate layers of tomato mixture, potatoes, codfish and onions. Bring to a boil over medium high heat and cover. Simmer on low for about 30 minutes or until potatoes are tender. Transfer to serving platter.
Fair Trade Guatemala Crafts (click on image to buy)
To examine any of the items listed, please click on image of item. As an Amazon Associate, I earn from qualifying purchases.
As an Amazon Associate, I earn from qualifying purchases.
My books:

BEST #OWNVOICES CHILDREN'S BOOKS: My Favorite Diversity Books for Kids Ages 1-12 is a book that I created to highlight books written by authors who share the same marginalized identity as the characters in their books.