Things to do with Kids in Bermuda
We have been to Bermuda a few times and it is probably our favorite place to visit to relax. What is not to like about Bermuda? Pink sand beaches. Friendly people. Crystal clear aquamarine blue ocean. Good food.
AND, it's convenient. The Bermuda dollar is on par with the U.S. dollar so exchange rates are easy and you can use U.S. money. From New England, it's a 1.5-hour direct flight to paradise. We go during the shoulder season so the prices are better, it's not crowded, and the weather tends to cooperate.
The only downside is that Bermuda can be pricey. Most things including food must be shipped or flown in so that gets expensive. Hotels come in a range of prices but are not exactly inexpensive. Rental cars are not allowed so we find that taxis are the way to go, but again, not inexpensive.
This would be a great place for a family reunion vacation if all parties have the same travel budget. If not, never fear, here are some tips to make this trip affordable, starting with … hotel options:
Hotel Options
Elbow Beach Hotel (Mandarin Oriental)
We like this hotel as a great base camp for the family reunion because the beach is private and beautiful and there are multiple restaurants on the property. Although the food is not cheap, it's not much cheaper off the resort AND the food is great! The main hotel rooms are no longer being used (they were not as nice yet expensive) and the bungalows are nice but pricey. Whoever is staying at this hotel can be the host and everyone else can meet up here and take advantage of the nice facilities. There is also a great tennis program; call ahead to reserve court time or book lessons.
We always use the same cab drive, Russel Wade, who is really nice and has a van that seats 8. When his boys graduated from college, he turned part of his home into a small inn. The price points are great, and you can arrange taxi services or tours with him. He's an expert on the flora and fauna in the area too, as a bonus! If other parties are staying at Elbow Beach, use this as your sleeping quarters but hang out at Elbow Beach to use their amenities which include a private beach, pool, restaurants, and tennis courts.
Restaurants
We love, love, love Mickey's at Elbow Beach hotel because it is actually on the beach. You can let the kids run around after they order, call them back to eat when their food comes, and let them play again when they are done 5 minutes later. You, the parents, can watch your children frolic on the private beach while they play and run in the pink sand. Heaven! And the food is amazing. We eat as many meals here as possible, both lunch and dinner. You don't have to stay at the hotel to eat here but everyone needs to make a reservation as it gets busy!
There are two locations but one is across the street from Bailey's Ice Cream shop so we like that one and stop for ice cream afterward. We think they have the best fish chowder in town but that is a hotly debated topic. It can get busy when the cruise ships are in port, but the food is great, the wait staff lovely, and rum punch packs a wallop. No matter; no one is driving! They are famous for a smooth but potent rum punch but all their food is great. They can seat large parties.
Bailey's Ice Cream Shop
My kids love this shop with great homemade ice cream.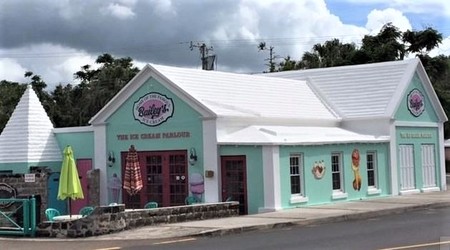 Lobster Pot Restaurant
My little son discovered that he loves lobster so we always stop here. The owners are really nice too! Book a reservation though, as it is popular with the locals too!
Recipes
We ate the fish chowder twice a day, every day. We think the Swizzle Inn version was the best though Elbow Beach's version wins accolades and awards. This recipe comes close to both closely guarded secret recipes. I found it online at epicurious.com.
1 medium onion, chopped
1 green bell pepper, chopped
1 leek (white and pale green parts only), chopped
2 carrots, chopped
1 celery rib, chopped
1 medium tomato, peeled, seeded, and chopped
2 large garlic cloves, minced
3 tablespoons unsalted butter
3 cups fish stock or bottled clam juice
5 cups water
2 1/4 lb mixed white fish fillets such as cod, grouper, tilefish, and snapper, skin and bones removed
1/4 cup tomato paste
1 bay leaf
1 teaspoon whole allspice, tied in a cheesecloth bag
1/2 teaspoon dried thyme, crumbled
1 teaspoon hot pepper sauce, or to taste
3 tablespoons cornstarch stirred together with 3 tablespoons water
12 small hard-shell clams such as little necks, scrubbed
1 lb medium shrimp, shelled and deveined
2 to 3 tablespoons Worcestershire sauce
1/4 cup dark rum, or to taste
2 tablespoons Sherry pepper sauce
Cook onion, bell pepper, leek, carrots, celery, chopped tomato, and garlic in butter in a 6-quart wide heavy pot over moderate heat, stirring frequently, until softened, about 10 minutes. Stir in stock and water and bring to a boil. Reduce heat and simmer briskly, uncovered 20 minutes.
Stir in fish, tomato paste, bay leaf, cheesecloth bag of allspice, thyme, hot pepper sauce, and salt and pepper to taste. Simmer 20 minutes (fish will break up), then stir cornstarch mixture and stir into chowder. Simmer, stirring occasionally, until thickened, about 2 minutes.
Stir in clams, shrimp, Worcestershire sauce, and rum, and gently simmer for 30 minutes. Remove from heat and let chowder stand, covered 1 hour. Gently return to a simmer and stir in Sherry pepper sauce.
Swizzle Inn Rum Punch
4oz Goslings Black Seal Rum
4oz Barbados Rum (or any amber rum)
2oz Triple Sec
Juice of 2 lemons
5oz Pineapple Juice
5oz Orange Juice
2oz Bermuda Falernum or simple sugar syrup
4 dashes of Angostura Bitters
Mix in a pitcher with cracked ice and shake vigorously until the frothing head appears. Strain into cocktail glasses and let the fun begin!
Serves 6
Fun Stuff to Do
Captain Michael Baxter is the nicest person in the world. We had so much fun casting off the Ellen B. reef fishing. He has poles for six so everyone gets to handle their own rod and reel. We caught so many fish: chub, yellowtail, snapper, triggerfish, porgy, and jacks. We threw back a lot of the catch as some of these fish are not good eating plus we didn't know what to do with the fish. If you are prepared, Captain Michael can tell you where to go to get your fish cooked for you (assuming you are in a hotel without your own kitchen).
Crystal Caves
Learn the difference between stalagmites and stalactites. I thought the caves were amazing but my kids thought once was enough. You walk fairly deep into a cavern to see the sights so wear comfortable walking shoes such as sneakers.
Bermuda Aquarium, Museum & Zoo (BAMZ)
This always seems to take us one hour from start to finish so it's a quick trip but my kids LOVE this place. We have been three times and it will always be a requisite stop for us when we are there. If you only have time to do one outing, I would suggest this one. It's great for all ages too!
To examine any of the items listed, please click on image of item. As an Amazon Associate, I earn from qualifying purchases.
My books:

BEST #OWNVOICES CHILDREN'S BOOKS: My Favorite Diversity Books for Kids Ages 1-12 is a book that I created to highlight books written by authors who share the same marginalized identity as the characters in their books.